Bank reneges on short sale — after it closes
Bank of America approved the sale, then changed its mind after closing — more than once. The borrower had to file a lawsuit.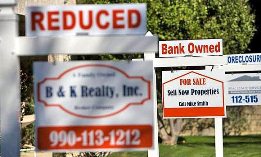 We thought we'd heard everything when it comes to missteps, delays and difficulties in mortgage modifications and short sales.
And then we read this story: Bank of America denied a borrower's request for a short sale AFTER the sale had closed, Gretchen Morgenson reports in The New York Times.
Back in 2007, Alexandra Garcia bought an investment condo in Deltona, Fla., for $250,000, putting 20% down. But after the market collapsed and she couldn't make the payments, she asked Bank of America to let her do a short sale.
Post continues below
She got a surprisingly quick response: Yes, a short sale for $72,000 was approved.
Not only that, the bank agreed not to come after her for any deficiency and said the sale would have to be closed by March 23. Garcia agreed to pay the bank a requested $1,000.
The sale closed March 5.
"Then the weirdness began," Morgenson wrote.
Two days after the sale was completed, Bank of America returned the money, rejecting the terms to which it had agreed. The next day, the bank sent a letter agreeing to those terms.
After some more back and forth, the bank rejected the short sale, saying Fannie Mae, the investor in the loan, did not approve. That was on March 20 — two weeks after the buyer had moved in.
In the end, Garcia had to file suit against Bank of America, and The New York Times had to ask questions before the bank agreed to accept the original short-sale terms.
Buyers and sellers often can't fathom why loan servicers make short sales so difficult, since they are much easier, quicker and cheaper than doing a foreclosure. Plus, the property usually stays in good condition.
Well, Morgenson writes, perhaps it's because the loan servicers themselves do not benefit. The servicers collect fees while a loan is in default, but they lose that money once a short sale closes.
"Why in the world would a bank ever finish one of these deals?" April Charney, a foreclosure defense lawyer in Florida, said to The Times. "When they renege, they get to keep servicing a defaulted loan."
FIND YOUR DREAM HOME OR APARTMENT
msn real estate is social
WHAT'S YOUR HOME WORTH?
HOME IMPROVEMENT PROFESSIONALS