Is most home-price advice wrong?
A new study finds that homes with higher asking prices fetch higher sale prices. That goes against conventional wisdom that advises setting prices lower to attract multiple offers.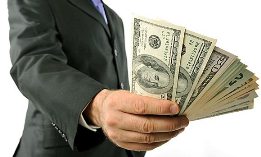 It's the biggest question every home seller faces: Do I price the house a little higher with the idea that people will negotiate down or even pay that price? Or do I price it a little lower in hopes of getting multiple offers and sparking a bidding war?
You can find proponents of both approaches, though the preponderance of advice usually cautions against setting the price too high.
A new study suggests that conventional wisdom is wrong, and says sellers who set a higher price get a higher price.
The researchers found that homeowners who set the initial asking price 10% to 20% higher than the price of comparable homes got $117 to $163 more for their homes, priced at an average of $234,000. Those who set the asking price 20% or more above that of comparable homes got considerably more, statistically speaking.
But those who set the initial price 10% to 20% lower got less for their homes, an average of $117 to $187 less, The Wall Street Journal reports.
Grace Bucchianeri, who was an assistant professor at the University of Pennsylvania's Wharton School, and Julia Minson, who was a lecturer at Wharton, studied 14,616 home sales in Delaware, New Jersey and Pennsylvania between January 2005 and April 2009. The results of their study were published in the Journal of Economic Behavior & Organization.
The researchers attribute the success of the higher price to a behavioral habit called anchoring: a tendency to rely on the first piece of information offered to make a decision – the anchor, or, in this case, the price. That first piece of information – high price – leads buyers to believe high value.
"Every house is different, and so those qualitative things really matter," Bucchianeri told The WSJ. "Buyers will turn to the good attributes that justify the high price."
The researchers wrote:
While the online recommendations of real-estate agents seem to favor underpricing, alluding to a potential herding effect, our market data do not provide any support for this strategy. In fact, underpriced homes systematically fared less well in the data we examined, even in hot markets with frequent transactions.
Their research found that, while real-estate agents usually advised homeowners to underprice, many agents actually believe that pricing a home higher results in a higher sale price. A $200 difference in sale price has little impact on the real-estate commission, though the researchers were not sure the agents were necessarily self-serving, or even trying to get the home sold faster. They wrote:
Given that we find no relationship between the Realtors' recommendations and their expectations regarding time on market, we cannot conclude that these recommendations are strictly self-serving. It might be that similarly to decision scientists, professional Realtors entertain two competing sets of predictions about the effect of listing prices on selling prices: one based on herding and one based on anchoring.
What do you think? Should real-estate agents advise sellers to set their prices higher? Or does this academic research fail to account for some real-life issues? The survey did not look, for example, at length of time on the market.

   Elmo    I'm glad there are people like you.
  So  I can point out to my clients  what to expect when they deal  head to head with
  a well meaning seller.     You are only  selling your house  and you are looking out for you.
    I as a real estate professional   will know the  whole story.   What homes are on the market,
    where all the important  facilities  the buyer needs are located.    What the market indicates
   the buyer should expect to pay  for  what meets his  needs.
   And then  I  have an obligation to  the seller  first and foremost to  do the best job  to
     get a  proper price  depending on his needs.
    That is not an easy   get rich quick  job   by any means.

Advice is totally wrong for people that have acreage.
I have been fighting an issue for years with many appraisal firms.  See, if I have a home that is 1,200 sqft with 3 cleared acres, how is it possible for my home to be worth only 10/15% more? Than other homes with only 1/4acre and same square footage.  
I do believe market comparable homes are a tool to sell a home quicker for the hired broker.

The answer completely depends on the market. Here in certain neighborhoods of Seattle, I guarantee that setting a price lower than market value has helped drive up the price significantly with multiple offers, to a price that would not have been reached otherwise. Every market is different and it is the Realtor's duty to advise and educate, with the Seller making the ultimate decision on which pricing strategy they want to use. A Realtor is hired to sell a house - not to list it. A professional is going to suggest a price that will bring a sale at the highest and best possible price in the quickest amount of time. 

So you get $200 more but it doesn't attribute have to make an extra mortgage payment(s), level of stress when selling a home, etc. This study seems to have numerous flaws. As a realtor in Denver, when you look at days on market vs % of asking price tells the complete opposite of this study. The first 30 days on the market the seller is almost always getting closer to their asking price than homes sitting on the market from 30 to 90 days, and even more than homes that sit on the market for 90+ days. 
Are you sure you want to delete this comment?
FIND YOUR DREAM HOME OR APARTMENT
msn real estate is social
WHAT'S YOUR HOME WORTH?
HOME IMPROVEMENT PROFESSIONALS
from our partners