FEATURED POST
A doctor returned to her hometown and converted an old downtown building into a gracious home.
When Dr. Sarah Belhasen moved back to her hometown in the Appalachian community of Paintsville, Ky., she wanted a house with character.
Not just any old house would do. In the end, she bought not a house but the old brick post office, which had once been a bank building, for $162,000. And then she turned it into her home.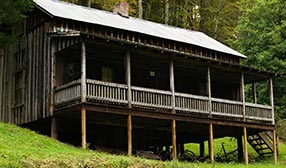 "I had the place laid out in my mind 15 minutes after I walked in the door," Belhasen said to Joseph D'Agnese of This Old House magazine. "I knew where I'd put the kitchen, where the living room would go, and I knew I could run a library off the main staircase."
Paintsville, in southeastern Kentucky, is a town of about 5,000 people and the Johnson County seat. It's known as the birthplace of singer Crystal Gayle and the closest town to the Butcher Hollow birthplace (pictured) of her older sister, Loretta Lynn.
About Teresa Mears
Teresa Mears is a veteran journalist who has been interested in houses since her father took her to tax auctions to carry the cash at age 10. A former editor of The Miami Herald's Home & Design section, she lives in South Florida where, in addition to writing about real estate, she publishes Miami on the Cheap to help her neighbors adjust to the loss of 60% of their property value.
msn real estate is social
FIND YOUR DREAM HOME OR APARTMENT
WHAT'S YOUR HOME WORTH?
HOME IMPROVEMENT PROFESSIONALS
from our partners