FEATURED POST
Trulia's new tool tells you where prices have been cut, by how much and the likelihood the asking price will drop again.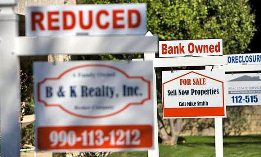 Any time we look at the price of a home for sale, we have one question: Will the sellers take less?
Trulia recently unveiled a new tool that might help you answer that question. The company's new Home Offer Report, complete with interactive maps, shows you how soon sellers in a given ZIP code reduce the asking price after a home goes on the market, the average reduction and the probability of a second reduction.
The data are updated quarterly, and the current maps are based on nonforeclosure sale data from March 31, 2010, to March 31, 2011.
On average nationwide, sellers reduce their list price after the home has been on the market for 79 days, with an average of an 8% reduction. Of those sellers, 35% will make a second price reduction. In the nation's 50 largest cities, sellers reduce their prices on average after 63 days on the market, with an average 7% reduction, and 42% will make a second reduction.
About Teresa Mears
Teresa Mears is a veteran journalist who has been interested in houses since her father took her to tax auctions to carry the cash at age 10. A former editor of The Miami Herald's Home & Design section, she lives in South Florida where, in addition to writing about real estate, she publishes Miami on the Cheap to help her neighbors adjust to the loss of 60% of their property value.
msn real estate is social
FIND YOUR DREAM HOME OR APARTMENT
WHAT'S YOUR HOME WORTH?
HOME IMPROVEMENT PROFESSIONALS
from our partners