FEATURED POST
In 72% of America's 50 biggest cities, it's more affordable to buy a home than rent one, according to the latest study from Trulia.com.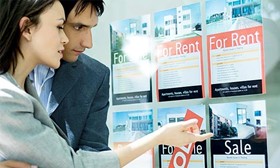 Homeownership is more affordable than renting in 72% of the 50 largest American cities, according to Trulia.com's latest Rent vs. Buy Index. 
There are only four major cities where renting is still the best choice, according to the index. It's a smart idea to keep renting if you live in New York, Seattle, Kansas City, Mo., or San Francisco.
But if you live in a city that has been overwhelmed by foreclosure filings and unemployment, it's probably a whole lot cheaper for you to buy. Those include many cities in Florida, Arizona, Nevada and central California. 
It's an interesting finding, considering the current real-estate landscape and the country's evolution into a nation of renters. Trulia's CEO explains the relative affordability of homeownership:
"Since the start of the Great Recession, many former homeowners have flooded the rental market. Following the principles of supply and demand, renting has become relatively more expensive than buying in most markets," said Pete Flint, CEO and co-founder of Trulia.

The Rent vs. Buy Index compares the cost of renting a two-bedroom home to the cost of buying, creating a price-to-rent ratio based on Trulia's listings.
About Teresa Mears
Teresa Mears is a veteran journalist who has been interested in houses since her father took her to tax auctions to carry the cash at age 10. A former editor of The Miami Herald's Home & Design section, she lives in South Florida where, in addition to writing about real estate, she publishes Miami on the Cheap to help her neighbors adjust to the loss of 60% of their property value.
msn real estate is social
FIND YOUR DREAM HOME OR APARTMENT
WHAT'S YOUR HOME WORTH?
HOME IMPROVEMENT PROFESSIONALS
from our partners