FEATURED POST
Spring is the time to fix what Mother Nature wrought on your fencing during the winter, whether you're planning to put your home on the market or just sprucing it up.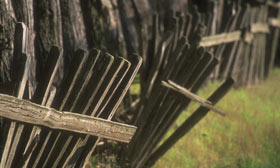 Ever watch an airplane's wing flap sway forward upon descent? That's what our wood fence looked like during a windstorm a few weeks ago. Our neighbors fared worse: One of their two old-growth Douglas fir trees toppled onto the other. Now they're both truckloads of wood chips. Alas, our east view is now impeccable.
But from the street, the appearance of our place is scarred by what's now a jagged, undulating mess of slats — as though Frank Gehry and Christo built it during a "quick-fire challenge" on the unrealized HGTV show "Make Stuff With Old Wood: Celebrity Face-off." If your fence looks the same and you're considering selling your home or simply avoiding embarrassment, this may be the opportune time to fix it.
According to Consumer Reports, spring is not only prime time for undoing damage caused by wind, rain or heavy snow, but it's also the first chance many of us have this year to paint or stain wood outdoors. In some cases, cosmetic changes could prevent fence decay.
About Teresa Mears
Teresa Mears is a veteran journalist who has been interested in houses since her father took her to tax auctions to carry the cash at age 10. A former editor of The Miami Herald's Home & Design section, she lives in South Florida where, in addition to writing about real estate, she publishes Miami on the Cheap to help her neighbors adjust to the loss of 60% of their property value.
msn real estate is social
FIND YOUR DREAM HOME OR APARTMENT
WHAT'S YOUR HOME WORTH?
HOME IMPROVEMENT PROFESSIONALS
from our partners