FEATURED POST
Kitchen updates lost favor in the third quarter as more homeowners took on necessary maintenance issues they'd been putting off for too long.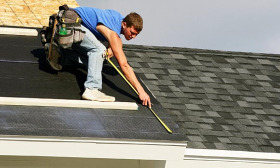 Earlier this year, it seemed inevitable that the economy was on the rebound, as both home sales and home prices were on the rise.
So what did homeowners do? They finally did that kitchen remodel they'd been dreaming of, believing that they'd easily be able to recoup the costs when selling. (Bing: How much will a kitchen remodel cost?)
What a difference a couple of months makes -- er, rather, a tax credit. Now home sales are hovering near historic lows, as home prices struggle to stay ahead of year-ago levels. But this dose of reality hasn't put a stop to all home-improvement projects, it's just shifted the focus to high-cost but necessary maintenance projects that many homeowners have been putting off for too long, according to ServiceMagic (an MSN Real Estate partner).
About Teresa Mears
Teresa Mears is a veteran journalist who has been interested in houses since her father took her to tax auctions to carry the cash at age 10. A former editor of The Miami Herald's Home & Design section, she lives in South Florida where, in addition to writing about real estate, she publishes Miami on the Cheap to help her neighbors adjust to the loss of 60% of their property value.
msn real estate is social
FIND YOUR DREAM HOME OR APARTMENT
WHAT'S YOUR HOME WORTH?
HOME IMPROVEMENT PROFESSIONALS
from our partners