FEATURED POST
After a Colorado teacher's home burned to the ground, she started a blog chronicling her anger, frustration and moments of joy.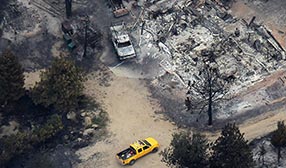 When Andi O'Conor lost her home in Colorado to a fire, she was abruptly forced to re-examine her concept of home, to reconsider what really matters in life and what role "stuff" plays.
She is chronicling her journey of loss and renewal in a blog called "Burning Down the House," with the subtitle "Essays on the Poetry of Loss." The journey is "the essence of paradox" she told Caroline H. Dworin of The New York Times. We may all fantasize about starting over, but as O'Conor, 53, writes:
There is philosophy and there is reality. Deep down, we sometimes wish we were free of all this stuff, that we were 22 again, and everything we owned fit into the back of an old Honda Civic. But then we realize that, for the most part, we need stuff to make a life. And when it all goes away, we are plunged into a strange and spinning place, with nothing to hold onto — no house, no home, no stuff, no clothes, no papers, no books, no clutter. Nothing to own. Nothing to own you.
For O'Conor, a teacher and public-speaking coach, it was the second time she had lost everything to fire; her family home burned down when she was 12.
FIND YOUR DREAM HOME OR APARTMENT
msn real estate is social
WHAT'S YOUR HOME WORTH?
HOME IMPROVEMENT PROFESSIONALS
more on msn real estate