FEATURED POST
When calculated for square footage, this home is actually the nation's most expensive.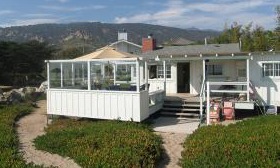 Just how much are you willing to spend on a view?
This 651-square-foot home overlooking California's Pacific Coast may look like little more than a shack, but it's actually worth more per square foot than Candy Spelling's $150 million mansion.
Stephane Fitch with Forbes argues that this home, listed at nearly $5.3 million, is actually the nation's most expensive home -- at a cost of $7,060 per square foot. (Thanks to HousingWatch for the link.) Fitch says that's nearly three times Spelling's asking price per square foot for her 123-room, 56,500-square-foot home set on 4.6 acres in the Holmby Hills neighborhood of Los Angeles. (Bing: Photos of some of the world's best beaches)
About Teresa Mears
Teresa Mears is a veteran journalist who has been interested in houses since her father took her to tax auctions to carry the cash at age 10. A former editor of The Miami Herald's Home & Design section, she lives in South Florida where, in addition to writing about real estate, she publishes Miami on the Cheap to help her neighbors adjust to the loss of 60% of their property value.
msn real estate is social
FIND YOUR DREAM HOME OR APARTMENT
WHAT'S YOUR HOME WORTH?
HOME IMPROVEMENT PROFESSIONALS
from our partners