FEATURED POST
Realtor.com is the latest company to unveil a tablet app, complete with GPS, social sharing and a place for notes.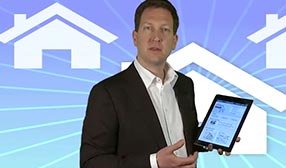 If you're as old as I am, you may remember when the multiple listing service of homes for sale was contained in a black-and-white printed book, and your agent wasn't even supposed to let you look at it. Actually, you don't have to be that old to remember the MLS book.
Technology has radically changed the way people look for real estate. Most of us have been looking at photos of homes for sale online for years. In the last few years, the tech-savvy have taken their home searches mobile.
The iPad, with its bigger display, may be the next big thing in home shopping. Its larger screen allows for easier use and better photo display than a mobile phone. Real-estate companies are finding the technology as alluring as newspaper and magazine publishers do -- as a way to publish what we once saw on paper on a mobile screen.
Realtor.com unveiled its iPad application today, complete with a screen of color photos and information that looks a lot like an old newspaper home-sale advertisement, but with better resolution.
"Mobile is changing the way people buy and sell homes, and our iPad app opens up real estate to millions of people with an amazing visual search experience," Steve Berkowitz, chief executive officer of Move Inc., operator of Realtor.com, said in a news release. "It combines mobile's instant gratification and investigative component that everyone loves with Move's search technology."
About Teresa Mears
Teresa Mears is a veteran journalist who has been interested in houses since her father took her to tax auctions to carry the cash at age 10. A former editor of The Miami Herald's Home & Design section, she lives in South Florida where, in addition to writing about real estate, she publishes Miami on the Cheap to help her neighbors adjust to the loss of 60% of their property value.
msn real estate is social
FIND YOUR DREAM HOME OR APARTMENT
WHAT'S YOUR HOME WORTH?
HOME IMPROVEMENT PROFESSIONALS
from our partners