FEATURED POST
A luxury prefab on display in the city combines the convenience of a recycled shipping container with modern design.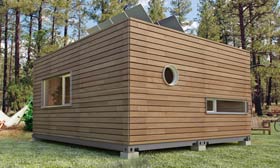 A 320-foot shipping container turned luxury home that sprung up seemingly overnight in Manhattan's West Village certainly turned a few heads, but whether it results in any sales is a completely different matter.
At a nearly unheard of price of $39,900, the MEKA Modern Luxury Home certainly is a bargain, but only if you already have the land the home will go on. And if you've got money for land in New York, my guess is you're going to want more than a shipping container, even if it has been transformed into a sleek and modern living space.
It still is an ingenious way to garner some attention for the prefabricated homes, with The Wall Street Journal reporting that producer Jon Kilik stopped by and expressed interest in putting a MEKA house on his rooftop terrace.
FIND YOUR DREAM HOME OR APARTMENT
msn real estate is social
WHAT'S YOUR HOME WORTH?
HOME IMPROVEMENT PROFESSIONALS
more on msn real estate