FEATURED POST
Concerns about pollution have people rethinking the value of wood-burning stoves and fireplaces.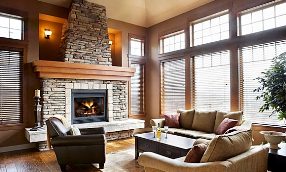 A fireplace has long been considered one of the top amenities that buyers seek in a home. What can be more romantic than an evening with a loved one in front of a blazing wood fire?
But the romance of the fireplace seems to be cooling, The New York Times reports, over concerns that fireplaces waste energy and pollute the air.
Sally Treadwell of Boone, N.C., would like to build a fire every night during the winter, but she says she feels too guilty.
"We're in the Appalachian Mountains, and I know what pollution does to us all," Treadwell told the Times.  "I very definitely limit fires."
That's right. A wood-burning fire, once a symbol of calm and relaxation, is now something to feel guilty about or hide behind closed doors -- if you could hide the smoke.
About Teresa Mears
Teresa Mears is a veteran journalist who has been interested in houses since her father took her to tax auctions to carry the cash at age 10. A former editor of The Miami Herald's Home & Design section, she lives in South Florida where, in addition to writing about real estate, she publishes Miami on the Cheap to help her neighbors adjust to the loss of 60% of their property value.
msn real estate is social
FIND YOUR DREAM HOME OR APARTMENT
WHAT'S YOUR HOME WORTH?
HOME IMPROVEMENT PROFESSIONALS
from our partners