FEATURED POST
Concerns about pollution have people rethinking the value of wood-burning stoves and fireplaces.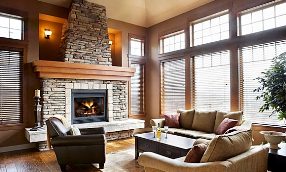 A fireplace has long been considered one of the top amenities that buyers seek in a home. What can be more romantic than an evening with a loved one in front of a blazing wood fire?
But the romance of the fireplace seems to be cooling, The New York Times reports, over concerns that fireplaces waste energy and pollute the air.
Sally Treadwell of Boone, N.C., would like to build a fire every night during the winter, but she says she feels too guilty.
"We're in the Appalachian Mountains, and I know what pollution does to us all," Treadwell told the Times.  "I very definitely limit fires."
That's right. A wood-burning fire, once a symbol of calm and relaxation, is now something to feel guilty about or hide behind closed doors -- if you could hide the smoke.
FIND YOUR DREAM HOME OR APARTMENT
msn real estate is social
WHAT'S YOUR HOME WORTH?
HOME IMPROVEMENT PROFESSIONALS