FEATURED POST
KB Home posts utility-bill estimates, seeking to give new homes an edge over used as builders' bleak outlook continues.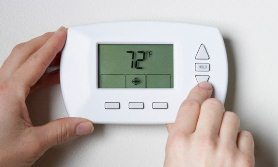 Coming off the worst year for new-home sales in 50 years, homebuilders are looking for ways their products can compete with existing homes, particularly low-priced foreclosures.
The newest selling feature is an Energy Performance Guide, which includes an energy-efficiency rating and an estimate of monthly gas and electric bills. KB Home rolled out the ratings this week, and other builders are expected to follow.
"For most people, buying a home is the largest and most important purchase they will ever make, and until now there has been no standard way to communicate a home's estimated monthly energy costs," Jeffrey Mezger, president and chief executive officer of KB Home, said in a news release. "We believe providing the estimated monthly energy costs will not only empower our homebuyers, but also change the way people shop for a home."
In Dallas, McGuyer Homebuilders this month started giving customers an estimate of their annual heating and cooling bills. If the customers pay more, the builder will reimburse them for the difference.
About Teresa Mears
Teresa Mears is a veteran journalist who has been interested in houses since her father took her to tax auctions to carry the cash at age 10. A former editor of The Miami Herald's Home & Design section, she lives in South Florida where, in addition to writing about real estate, she publishes Miami on the Cheap to help her neighbors adjust to the loss of 60% of their property value.
msn real estate is social
FIND YOUR DREAM HOME OR APARTMENT
WHAT'S YOUR HOME WORTH?
HOME IMPROVEMENT PROFESSIONALS
from our partners