FEATURED POST
Unlike high-end glossies, new publication offers tips to homeowners who don't have millions. It wants them to say, 'This is how I live, only a little better.'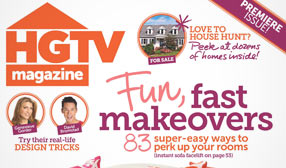 When long-established magazines and newspapers are struggling to stay afloat, it's surprising to hear that there's a new shelter magazine in town.
Last week, HGTV and Hearst Magazines launched HGTV Magazine, 144 pages of glossy articles about the home.
Unlike Architectural Digest and House Beautiful, the new HGTV Magazine contains photos and stories about something you may actually be able to afford or projects you really could do yourself.
"This is not a magazine that wants to lecture you on how to have a perfect home or a perfect life, because there is no such thing," editor Sara Peterson told The New York Times. "It doesn't feel intimidating and off-limits. This is an accessible and relatable 'you can live like this' magazine."
FIND YOUR DREAM HOME OR APARTMENT
msn real estate is social
WHAT'S YOUR HOME WORTH?
HOME IMPROVEMENT PROFESSIONALS
more on msn real estate