FEATURED POST
Half of the homes sold in the past year went to new homebuyers, and a growing number got a little extra help from their parents to make that purchase.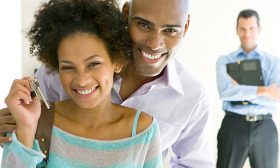 Although wavering home prices have been a drawback to many homebuyers recently, they give first-time homebuyers yet another reason to stick around in their dream home a little longer.
According to the National Association of Realtors' annual Profile of Home Buyers and Sellers survey, first-time homebuyers purchased half of all the homes sold between June 2009 and July 2010, up from 47% in the 2009 study.
The survey found that most of those first-time homebuyers also plan to stay in their home for 10 years, which should give them plenty of time to see values rise again.
About Teresa Mears
Teresa Mears is a veteran journalist who has been interested in houses since her father took her to tax auctions to carry the cash at age 10. A former editor of The Miami Herald's Home & Design section, she lives in South Florida where, in addition to writing about real estate, she publishes Miami on the Cheap to help her neighbors adjust to the loss of 60% of their property value.
msn real estate is social
FIND YOUR DREAM HOME OR APARTMENT
WHAT'S YOUR HOME WORTH?
HOME IMPROVEMENT PROFESSIONALS
from our partners