FEATURED POST
Stone countertops may be past their peak, but their popularity still doesn't appear to be waning.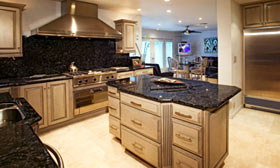 Since the late 1990s, granite countertops began sneaking into more and more homes until finally becoming a must-have in both new and resale homes during the boom.
Though the industry has slowed along with the housing market, the trend shows little signs of abating, which led Forbes personal finance writer Stephane Fitch to look into just how much money the stone countertop craze has cost Americans.
Although he was unable to pin down an exact figure, his conservative estimate was that the trend has cost at a minimum $12 billion — more than the U.S. spent on the first Gulf War. And he argues it's more likely that Americans spent at least $15 billion, and possibly as much as $60 billion.
FIND YOUR DREAM HOME OR APARTMENT
msn real estate is social
WHAT'S YOUR HOME WORTH?
HOME IMPROVEMENT PROFESSIONALS
more on msn real estate