FEATURED POST
National Geographic Channel tries to re-create the flying house from the film 'Up.' They didn't quite make it to South America.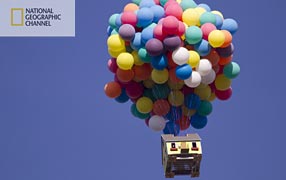 A few years ago, I saw an animated film called "Up," in which Edward Asner is the voice of a cranky old man who goes on an adventure that involves flying his house to South America using balloons.
This definitely seemed the stuff of fantasy, flying a house around by tying balloons to the roof.
The National Geographic Channel has proved that, yes, you can fly a house with balloons, though probably not to South America. In an experiment for a new show titled "How Hard Can It Be?" scientists and engineers were able to fly a small house with about 300 giant helium balloons for about an hour. You can see photos and watch a video here.
The house that took the flight was 16 feet by 16 feet, and 18 feet tall. Carrying two pilots, it weighed 2,000 pounds. To lift the house to 10,000 feet took 300 balloons, inflated to 8 feet tall each.
"We set out to determine how hard it can be to pick up a house with balloons," Paul Carlson, host of the new show, said in the video. "It was pretty hard. It was very difficult, actually."
About Teresa Mears
Teresa Mears is a veteran journalist who has been interested in houses since her father took her to tax auctions to carry the cash at age 10. A former editor of The Miami Herald's Home & Design section, she lives in South Florida where, in addition to writing about real estate, she publishes Miami on the Cheap to help her neighbors adjust to the loss of 60% of their property value.
msn real estate is social
FIND YOUR DREAM HOME OR APARTMENT
WHAT'S YOUR HOME WORTH?
HOME IMPROVEMENT PROFESSIONALS
from our partners