Listing of the Week: Home Wright designed but never saw
Construction of the Cincinnati house was supervised by Frank Lloyd Wright's grandson. This is the first time it has been offered for sale since it was built in 1955.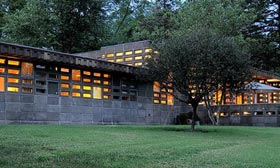 Toward the end of his career, Frank Lloyd Wright designed what he called the "Usonian" home – a moderately priced house that would bring good design to the masses.
About 60 of those homes were built, including one for the family of Gerald and Beverly Tonkens in Cincinnati in 1955. After living in the home for 57 years, the family has put it up for sale for the first time. Asking price is $1.788 million.
During the time they owned the house, the Tonkens family has altered it very little, beyond making the updates required for modern living and maintenance. The custom Henredon furniture Wright designed for the house is also offered for sale, at an additional cost, along with correspondence and documents about the home's design and construction. The home is on the National Register of Historic Places. You can see a slide show here.
''I live in a work of art,'' Gerald Tonkens, a car dealer, told The Orlando Sentinel in 1987, three years before he died. ''It's the most convenient and comfortable place in the world.'' After his death, his widow, Beverly, continued to live in the house.
While Wright designed the house, he never actually saw it before he died in 1959 at 91. Construction was supervised by his grandson, Eric Lloyd Wright, then a 24-year-old apprentice, who moved to Cincinnati for the 18 months it took to build the home.
The 3,123-square-foot house, constructed of concrete and steel, is on four acres in the city's Amberley Village neighborhood. It has three bedrooms and two baths. While it was built on a modest budget, it has Philippine mahogany paneling and an 18-karat gold-leaf ceiling in one room. The property has a separate guest house, which the listing agent says was sometimes occupied by Walter Cronkite. Neil Armstrong reportedly also visited the home.
Cincinnati was an important city in the Modern architecture movement, and a number of local architects emulated Wright's designs, according to an article in CityBeat. The Tonkens house was one of several that Frank Lloyd Wright designed in Cincinnati.
One item that will not be included in the sale is the house the elder Wright (or someone in his office) designed for the family cat at the request of the Tonkens' daughter, Nancy. The Wright cat house has been sold several times over the years and was most recently offered for $14,500 in December.
FIND YOUR DREAM HOME OR APARTMENT
msn real estate is social
WHAT'S YOUR HOME WORTH?
HOME IMPROVEMENT PROFESSIONALS
from our partners