The rise of the $100,000-plus closet
Closets are growing and adding such features as wine bars, breakfast areas, acres of shoe racks and, in a few cases, even an escalator.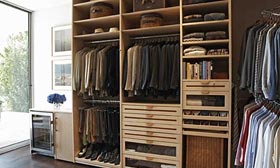 Add this to the list of trends among the very rich: closets as big as your house.
And about as expensive, too. Wealthy homeowners are adding custom closets that cost $100,000 or more to outfit, The Wall Street Journal reports.
"We don't call them closets anymore," Gary Drake, a Los Angeles contractor, told The WSJ. The preferred term, just in case you need it for your next social outing, is "dressing room."
Post continues below
If you think $100,000 or more sounds like a lot for a custom closet, know that the costs can go higher – much higher. Clos-ette, a high-end New York closet company, built a $2.5 million, three-story closet with an escalator for a client in Mississippi. The company's usual closet jobs range from $50,000 to $250,000.
"It's a becoming somewhat of a trophy room," Melanie Charlton, the company's CEO, told The WSJ. "[Clients] care about having a nice kitchen, too, but that's old hat at this point."
We found reports of a $5 million closet in a Texas megamansion. That closet, inspired by Coco Chanel, included a $30,000 custom chandelier and a $10,000 area rug.
The shopping website Racked recently ran a series on over-the-top celebrity closets. We like Mariah Carey's space, which has an adjoining room that houses some of her 1,000 pairs of shoes. (She is quoted as saying: "It's not really a traditional closet, but I worked hard for this mess.") No word on exact size or cost.
The Wall Street Journal writes of this trend:
Once a secondary space designed primarily for storage, the humble closet is taking center stage. The latest in high-end master closets go well beyond the typical walk-in and are created to look more like plush lounges or designer stores. Clothing and handbags in glass display cases are lighted like sculptures; custom-designed couches are arranged near Baccarat crystal bars or dedicated breakfast areas.
Some closets also have flat-screen TVs or wine bars, in case you want to invite friends over to look at your clothes. And I thought I was getting a fancy closet when I added drawers, shelves and double hanging racks.
Once they have built these fancy closets, homeowners are using them not just as a place to store clothes but a place to hang out – though you have to wonder why you'd want to hang out in your closet if you lived in a 6,000-square-foot house.
High-end condos are also offering bigger and more tricked-out closets, although a 300-square-foot closet is sounding modest at the moment.
In Boston, Nancy Selldorff's renovations included the addition of more closet space to her 850-square-foot master suite. Her custom space includes Wenge cabinets, a center island and lighted glass racks for shoes and purses.
"I really wanted a place that felt special and was a personal retreat," Selldorff told The WSJ. "When I get dressed every day, it makes it feel like a special event."
FIND YOUR DREAM HOME OR APARTMENT
msn real estate is social
WHAT'S YOUR HOME WORTH?
HOME IMPROVEMENT PROFESSIONALS