Number of improving markets hits new high
Builders' index of metro areas where the housing picture is getting better jumped from 125 to 201 in December, with 44 states now represented.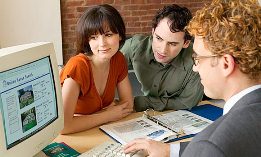 Looking for more evidence that the housing market has come back to life?
The number of metro areas listed as improving by the National Association of Home Builders/First American Improving Markets Index took a big jump in December, from 125 to 201. That's the highest number since the index started in September 2011 with only 12 markets listed.
"The big gain in improving markets this December indicates that key measures of housing and economic strength have now been holding steady or improving in metros across the country for six months or more, which is an important signal of stability amidst the slowly emerging recovery," NAHB Chairman Barry Rutenberg, a homebuilder from Gainesville, Fla., said in a news release.
Post continues below
The latest additions included Atlanta; San Francisco and San Jose, Calif.; Denver; Jacksonville and Orlando, Fla.; Indianapolis; Baltimore; Minneapolis; Las Vegas; Portland, Ore.; Philadelphia; and Spokane, Wash. Since markets move on and off the list if monthly statistics change, not all of those were making their first appearance on the list.
The addition of 84 new cities brings the number of improving markets to more than half the metro areas analyzed, and the number of states included rose from 38 last month to 44, plus the District of Columbia.
To be listed, a metro area must show improvement in building permits, employment and home prices for at least six months.
Not all is rosy. Eight markets fell off the list, including Des Moines, Iowa; Amarillo, Texas; and Syracuse, N.Y. Six states -- Alaska, Kansas, Maine, New Hampshire, New York and Vermont -- still have no cities on the list.
"This fourth consecutive month of expansion in the IMI, coupled with the fact that well over half of all metro areas are now represented on the list, is in keeping with the upward trends that we've been seeing all year in terms of housing starts and sales, builder confidence and other measures," NAHB chief economist David Crowe said in a news release. "In general, we expect the overall housing recovery to continue expanding in 2013. However, that is absent a major policy change of the kind that some policymakers have been discussing with regard to the mortgage interest deduction."
Are you sure you want to delete this comment?
FIND YOUR DREAM HOME OR APARTMENT
msn real estate is social
WHAT'S YOUR HOME WORTH?
HOME IMPROVEMENT PROFESSIONALS