Homebuilding up in 2012, but still has a way to go
A 28.1% increase in housing starts and a 30.3% increase in building permits look good, but the numbers are still below normal.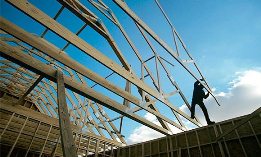 The latest report on building activity shows that builders' cautious optimism is well-placed.
Construction started on 12.1% more housing units in December than in November and on 36.9% more units than in December 2011. That brought the total number of housing starts in 2012 to 780,000, up 28.1% from the 606,800 started in 2011.
If the December pace continues, builders will start construction on 954,000 units in the next 12 months, the highest level of new-home construction since June 2008, according to the latest statistics from the Commerce Department.
"Overall, this report represents a solid ending to 2012 and a promising start to 2013," Robert Denk, a senior economist for the National Association of Home Builders, said in a news release. "Multifamily production is almost back to normal levels, and while single-family starts still have a way to go, they are gaining momentum."
The scarcity of existing homes for sale in some metro areas has helped fuel demand for new homes. More apartment construction also is under way as Americans forced from their home by foreclosure become renters.
Lennar Corp., the third-largest U.S. homebuilder, announced plans this week to move into multifamily construction, with plans to build 6,500 apartment units in the next three years.
"Despite a market rebound in the for-sale housing market, demand for rentals has accelerated, while supply has remained constrained," Lennar President Rick Beckwitt said, as reported in The Wall Street Journal. "It's easier to build a multifamily complex than it is to actually build homes."
For single-family homes, a more reliable statistic because the numbers are larger and less volatile, builders started construction on 8.1% more homes in December than in November. Single-family housing starts were up 18.5% from December 2011, and the 2012 total was up 24.4% over the number of single-family homes started in 2011.
Building permits, a harbinger of construction to come, were up 0.3% from November and 28.8% from December 2011. Permits were issued for 813,400 housing units in 2012, up 30.3% from 624,100 in 2011.
The number of single-family permits issued in December was up 1.8% from November and 27.3% from a year ago. For the year, single-family permits were up 22.9% over 2011.
The number of permits issued for buildings of five units or more was down 1% for the month but up 35% since last December. From 2011 to 2012, the number of permits for units in buildings with five or more units rose 49.3%.
Trulia economist Jed Kolko sounded a note of caution. "Despite the 2012 rebound, construction is still at historically very low levels," he wrote at the Trulia Trends blog. "Average housing starts over the period 1990-2011 were almost 1.4 million. At 780,000, 2012 construction starts were 43% below this long-term average. Aside from the even worse years of 2009-2011, construction starts in 2012 were at their lowest level since 1959, when the Census began reporting housing starts."
FIND YOUR DREAM HOME OR APARTMENT
msn real estate is social
WHAT'S YOUR HOME WORTH?
HOME IMPROVEMENT PROFESSIONALS
more on msn real estate