Home prices continue rising
The latest Case-Shiller figures show prices up 3% from last year at this time, but the pace of recovery varies drastically from city to city.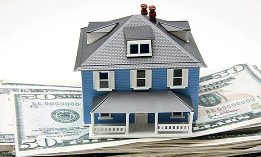 The latest Case-Shiller numbers show that home prices are continuing to rise modestly in most major U.S. cities.
The S&P/Case-Shiller Home Price Indices for September showed an increase of 3% for the combined 20 cities it covers compared with September 2011. Of the 20 cities, only two — Chicago and New York — showed a decline in prices year over year.
The 18 other cities showed price increases ranging from 0.1% in Atlanta — the first increase after 26 months of decline — to 20.4% in Phoenix.
"We've had several years now for the housing recovery to sort of catch its feet, and it looks like we are starting to crawl out of the giant hole that we dug into from the financial crisis," Sean Incremona, senior economist at 4Cast, told Bloomberg.
The 10-city and 20-city composite prices are 9% above their most recent low, in March 2012, but about 29% below the home-price peak reached in mid-2006. The composite price is equal to the prices in the fall of 2003.
Whether the good news about home prices is good enough may depend on when you bought your home. While the Case-Shiller indices have shown year-over-year increases for the past six months, many who bought homes after the peak still haven't seen home values catch up to what they paid.
The Wall Street Journal looked at prices in the 20 cities compared with September 2008 and found that only two cities — Washington, D.C., and Denver — show higher prices this year.
These are the cities that showed the greatest price increases from September 2011 to September 2012:
Phoenix: up 20.4%.
Minneapolis: up 8.8%.
Detroit: up 7.6%.
San Francisco: up 7.5%.
Miami: up 7.4%.
The cities that showed the weakest performance during that period were:
New York: down 2.3%.

Chicago: down 1.5%.

Atlanta: up 0.1%.

Cleveland: up 1.4%.

Boston: up 1.9%.
Two other housing indexes also showed an increase in prices year over year. The FHFA House Price Index, which tracks sales of homes whose mortgages are backed by Fannie Mae and Freddie Mac, showed an increase of 4% from the third quarter of 2011 to the third quarter of 2012.
The Lender Processing Services Home Price Index, which tracks repeat sales in more than 15,500 U.S. ZIP codes, showed an increase of 3.6% between September 2011 and September 2012.
"The past year has seen consistent price increases," FHFA Principal Economist Andrew Leventis said in a news release, "but a number of factors continue to affect the recovery in home prices such as stagnant income growth, high unemployment levels, lingering uncertainty about the macroeconomy, and the large number of homes in the foreclosure pipeline."
FIND YOUR DREAM HOME OR APARTMENT
msn real estate is social
WHAT'S YOUR HOME WORTH?
HOME IMPROVEMENT PROFESSIONALS