Debate cities: Tale of three housing markets
The metro areas hosting the three presidential debates experienced vastly different boom and bust results.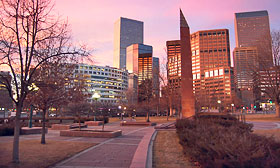 We're unlikely to hear much about housing in the three presidential debates. After the first debate in Denver, the next will be on Oct. 16 in Hempstead, N.Y., and Oct. 22 in Boca Raton, Fla.
Republican candidate Mitt Romney did mention on the eve of the debate that he might support cutting back the mortgage-interest deduction. But neither Romney nor President Barack Obama has focused on housing during the campaign.
The three cities where the debate are to take place present three significantly different pictures of the housing market, writes Jed Kolko, chief economist for the real-estate portal Trulia.
Post continues below
Denver has a strong housing market. It didn't experience much of a boom or much of a bust. According to Trulia, prices fell only 8% from the peak to the trough. Home prices rose 8.6% in the Denver metropolitan area from August 2011 to August 2012, CoreLogic reports. "Strong job growth, not bargain-hunting, is driving Denver's housing demand," Kolko wrote.
Long Island saw prices fall 20% during the housing bust and rise just 1.3% from August 2011 to August 2012, according to Trulia's data.
Boca Raton is in Palm Beach County, which was one of the epicenters of the housing boom and bust. Prices in Palm Beach County fell 48% from the peak to the trough, but have risen 10.4% in the last year, according to Trulia's data.
The foreclosure numbers for the three cities really show a contrast: The number of foreclosures per 1,000 housing units is 10.6 for Denver, 15.6 for Long Island and 33 for West Palm Beach-Boca Raton.
ProPublica, the not-for-profit journalism website, has some recommended reading on the economy in advance of tonight's debate. The site has focused extensively on the failure of the Obama housing policy – but also provides a link to a Bloomberg story that points out that Romney's vague housing plans look a lot like Obama's.
FIND YOUR DREAM HOME OR APARTMENT
msn real estate is social
WHAT'S YOUR HOME WORTH?
HOME IMPROVEMENT PROFESSIONALS
more on msn real estate