Students build a solar future
Team Germany takes the top prize in the Energy Department's decathlon to build the most energy-efficient home -- on the National Mall.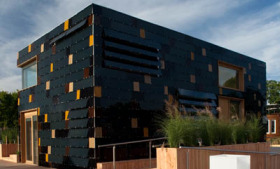 The future is now for one last weekend at the National Mall in Washington, D.C., as the 20 student teams competing in the U.S. Department of Energy's Solar Decathlon continue to wow visitors with their innovative home designs.
You have until Sunday to visit the homes that the university and college students from around the globe built on location during the first part of the decathlon. I know what you're thinking. Brand-new, zero-energy home, perfect location -- nobody would notice a squatter, right? Well, as alluring as these homes are, it would be a short-lived stay, seeing as the teams will be taking them down early next week.
Not to mention that the free daily tours of the homes could be a drag, especially now that the winners have been announced, giving would-be visitors the opportune time to jot down a few notes on how the winners both produced and wisely used energy.
Winning Team Germany's surPLUShome, shown, may not help you blend in very well in most neighborhoods, and with a price tag of $650,000 to $850,000, it's also out of most people's range. But talk about solar power. With the ability to produce nearly twice as much energy as it needs, it took first place and received the total number of points possible for net metering.
Team Germany also took the top spot for comfort, and the winners of the other eight criteria were:
Architecture: Team California
Market viability: University of Louisiana at Lafayette
Engineering: University of Minnesota
Lighting design: Minnesota
Communication: Team California
Hot water production: University of Illinois at Urbana-Champaign
Appliances: Illinois
Entertainment: Illinois
The future remains bright for the teams. Richard King, who runs the program for the Energy Department, told The Washington Post that teams in previous decathlons have later formed their own energy technology companies.
The competition is designed to push solar technology forward -- and to train the next generation of architects, engineers and other design pros to create homes that operate with nearly no carbon footprint ...

In the past three decathlons, students have learned from their competitors and incorporated winning ideas into subsequent designs. "They learn from each other; they learn what really works," he said. "It's a wonderful iterative process of advancement."
And even though the official results of the decathlon have been announced, you still can vote for your favorite solar-powered home at The Huffington Post.
About Teresa Mears
Teresa Mears is a veteran journalist who has been interested in houses since her father took her to tax auctions to carry the cash at age 10. A former editor of The Miami Herald's Home & Design section, she lives in South Florida where, in addition to writing about real estate, she publishes Miami on the Cheap to help her neighbors adjust to the loss of 60% of their property value.
msn real estate is social
FIND YOUR DREAM HOME OR APARTMENT
WHAT'S YOUR HOME WORTH?
HOME IMPROVEMENT PROFESSIONALS
from our partners