Listing of the Week: N.Y. firehouse turned luxury penthouse
The 4-story Tribeca home where IMF chief Dominique Strauss-Kahn spent his house arrest is for rent for $50,000 a month and for sale for $13.99 million.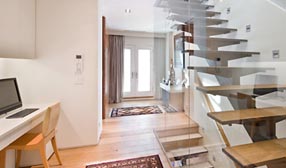 We love stories about buildings that started as one thing and then became something else.
So we present as our Listing of the Week a former New York City firehouse turned luxury townhouse. Built in 1865, the building in Manhattan's trendy Tribeca neighborhood had a number of industrial and commercial incarnations between fire station and luxury abode.
The four-story townhouse enjoyed its 15 minutes of fame this spring when former International Monetary Fund Director Dominique Strauss-Kahn rented the place, at a reported $50,000 per month, while he was under house arrest after being charged with sexually assaulting a hotel housekeeper.
Now that the charges have been dismissed and Strauss-Kahn has gone back to France, the 6,804-square-foot townhouse in Manhattan is for sale for $13.99 million or for rent for $50,000 a month.
The listing shows more than a dozen luscious photos of the four-bedroom, four-bath property, which underwent a $4 million, 18-month gut renovation by architect Leopoldo Rosati a few years ago, emerging with a streamlined, modern style.
The floor plan shows a home theater, gym, spa steam bath and laundry room on the lower level, and an open living/dining and kitchen area, plus a small bedroom and 1.5 baths on the main floor. The third floor has two bedrooms — one with a fanciful mural of sea creatures painted on a wall — and a bath, plus a large private terrace. The master suite takes up the fourth floor.
There is a shared roof deck.  A private garage is also possible, according to the listing.
The place was spectacular enough to draw the attention of baseball star Alex Rodriguez and actress Cameron Diaz, though in the end A-Rod bought a $6 million penthouse on the Upper West Side.
Post continues below
The New York Daily News offered these details about the townhouse:
The ground floor is radiant-heated limestone. The bathroom is the size of some Manhattan studio apartments and is outfitted with a "rainfall steam shower."

The skylight in the great room looks out on the terrace, which is surrounded by a frosted glass fence for privacy.
When the house first hit the market in 2009, Curbed NY wrote:  "Our reaction to the recent Leopoldo Rosati renovation could best be described as wowza."
Tom Miller at the blog Daytonian in Manhattan shares some history of the building. Michael Marvisi bought it for $6.79 million in 2008 and hired Rosati to turn it into a lavish living space. (The building sold for $375,000 in 1996, before Tribeca was cool.)
After the remodel, the townhouse went back on the market in 2009 with an asking price of $14.99 million and is now being offered for $1 million less.
About Teresa Mears
Teresa Mears is a veteran journalist who has been interested in houses since her father took her to tax auctions to carry the cash at age 10. A former editor of The Miami Herald's Home & Design section, she lives in South Florida where, in addition to writing about real estate, she publishes Miami on the Cheap to help her neighbors adjust to the loss of 60% of their property value.
msn real estate is social
FIND YOUR DREAM HOME OR APARTMENT
WHAT'S YOUR HOME WORTH?
HOME IMPROVEMENT PROFESSIONALS
from our partners