Listing of the Week: House by Crate and Barrel?
The home-furnishings chain's co-founders purchased a Chicago-area mansion in 2008 and added Crate and Barrel accoutrements — but never lived in the property.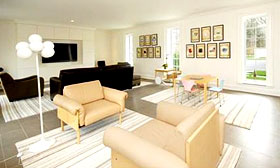 So an Ikea house may not be your style. How about a home decorated by the folks behind home-furnishings chain Crate and Barrel?
The company's co-founders, Carole and Gordon Segal, are selling their five-bedroom, seven-bath, 10,000-square-foot mansion in Winnetka, Ill., a posh suburb in the Chicago area's North Shore. Their asking price of $6.899 million does not appear to have changed since they listed the property last May, Chicago Real Estate Resources reports.
Perhaps they can afford to be picky: The Segals actually live next door, in a seven-bedroom, 7,312-square-foot estate, according to Curbed Chicago.
Post continues below
As Curbed notes, the Segals bought the property in 2008 as a "fixer-upper" for Carole Segal. Judging from the listing photos, she has decorated the interior of the 1934 Georgian home with a number of Crate and Barrel sofas and beds, retaining its "ambience of a bygone era."
The 2.4-acre grounds also have been redesigned. Check out additional photos here.
The Segals opened their first Crate and Barrel as 23-year-olds in 1962 in Chicago's Old Town. As the story goes, the store's name comes from the receptacles in which the Segals first displayed merchandise. Crate and Barrel now has more than 170 stores in the U.S., Canada and Dubai, according to Fortune. Gordon Segal stepped down as CEO in 2008 and is expected to leave the company's board this year.
He and his wife originally paid $4.475 million for the listed property; the home's previous owners put down $5.493 million for it in September 2005, according to public records.
Such seven-figure price tags are common in Winnetka, which recently ranked as Illinois' most-expensive suburb. Trulia.com places its median sale price at more than $1.2 million.
Notable properties abound, however. The recently sold "Home Alone" house is about two miles north of the Segals' homes on Woodley Road. You also may recognize sites from films such as "The Breakfast Club," "Sixteen Candles" and "Ferris Bueller's Day Off" in the area; the North Shore was a favorite of late director John Hughes.
With Winnetka's luxury prices comes, well, luxury. In addition to the town's proximity to Lake Michigan and downtown Chicago, its New Trier High School is considered among the nation's best. Alumni include actors Rainn Wilson and Ann-Margret, Chicago Mayor Rahm Emanuel and former Defense Secretary Donald Rumsfeld.
— Tony Stasiek is a producer/editor at MSN Real Estate.
FIND YOUR DREAM HOME OR APARTMENT
msn real estate is social
WHAT'S YOUR HOME WORTH?
HOME IMPROVEMENT PROFESSIONALS
from our partners