Year closes with some positive housing-market data
Sale contracts increased in November, and lenders are accepting more short sales. Meanwhile, prices slipped between September and October. Will this bode well for buyers in 2012?
In the waning days of a roller-coaster year for real estate, we received some positive news about the housing market.
The National Association of Realtors announced today that its Pending Home Sales Index rose 7.3% in November from October and 5.9% from November 2010. The index, which tracks homes under contract but not sales themselves, has not been this high since April 2010.
Earlier this month, the NAR said existing-home sales in November increased 4% in October and 12.2% from November 2010. Of those, 29% were distressed sales, down from 33% in November 2010.
Despite that slip, homeowner-assistance​ group Hope Now says 26,000 more short sales occurred this year than in 2010, MSNBC reported. Could all of this mean that the housing freeze is thawing a bit?
Post continues below
Perhaps, says Lawrence Yun, NAR chief economist:
"November is doing reasonably well in comparison with the past year. The sustained rise in contract activity suggests that closed existing-home sales, which are the important final economic impact figures, should continue to improve in the months ahead."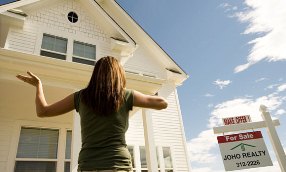 For buyers, especially those buying for the first time, reduced prices may help, as well. The S&P/Case-Shiller Home Price Index reported that prices dropped 1.2% from September to October, according to its 20-city index, which also was down 3% from October 2010. Its 10-city index showed a 1.1% monthly drop and was down 3.4% from October 2010.
Detroit and Washington, D.C., were the only metropolitan areas to log a year-to-year gain. Atlanta posted the deepest annual dip, with prices slipping 11.7%. David M. Blitzer, chairman of the index committee, called out Atlanta and the Midwest for standing out in terms of "recent relative weakness."
Home sellers there might be staying off the market, which has been the case for "move-up buyers" throughout the year. That may linger into 2012: "One gets a recipe for further price declines," Patrick Newport, an economist for IHS Global Insight, told the Los Angeles Times. "Our view is that foreclosures, excess supply and weak demand will drive prices down another 5% to 10%."
Nevertheless, the yearly increase in short sales could point to lenders being more flexible with potential foreclosure properties. By indicating a willingness to work with distressed properties to sell them before they enter foreclosure, they may be keeping prices down in some areas — short-sale prices traditionally are less than those of foreclosure sales — but could foster more market flexibility.
This approach also benefits the lenders in some ways, according to the MSNBC article:
Besides yielding less, foreclosures also cost lenders more in legal and administrative resources. "The incentives against foreclosing are even larger now," Karen Dynan, co-director of the Economic Studies program at the Brookings Institution, said via email. "Servicers are facing enormous staffing constraints because they are trying to deal with so many distressed properties, so it is probably even harder now to find the staff to do the paperwork for the foreclosure."
As for the pending-sales data, increases there also warrant watching in the next few months. A look at the stats by region:
West: The Pending Home Sales Index jumped 14.9% from October to November, and was up 2.9% from November 2010.
Northeast: Pending sales increased 8.1% in November from October and dropped 0.3% from a year earlier.
Midwest: Pending sales were up 3.3% in November from a month earlier and 9.5% from a year earlier.
South: In November, pending sales increased 4.3% month to month and 8.7% year over year.
Also: This marks our final "Listed" post for 2011. Thanks for a great year — and let us know what topics you'd like to see us cover in 2012. Teresa Mears will return Jan. 3.
— Tony Stasiek is a producer/editor at MSN Real Estate.
FIND YOUR DREAM HOME OR APARTMENT
msn real estate is social
WHAT'S YOUR HOME WORTH?
HOME IMPROVEMENT PROFESSIONALS
more on msn real estate