It's a good time to buy, but is it a good time to sell?
A new study finds that 80% think it's a good time to buy a home, but only 7.6% think it's a good time to sell — at least at current prices.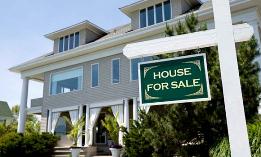 One challenge facing prospective homebuyers is the difficulty of finding a house in a good neighborhood in good condition.
Prices continue to decline, but so does the number of homes for sale.
New research gives us one reason why: Buyers may think it's a good time to buy, but sellers don't think it's a good time to sell.
A study for the Mortgage Bankers Association's Research Institute for Housing America found that nearly 80% of Americans think it's a good time to buy, but only 7.6% think it's a good time to sell.
Post continues below
The feelings of homebuyers are the same as in previous recessions, but the sentiments of sellers are different this time, Syracuse University professor Gary V. Engelhardt wrote in a special report titled "The Great Recession and Attitudes Toward Home-Buying." He writes:
What distinguishes the current recession is the dramatic decline in home-selling sentiment. From 1992 through 2005, positive home-selling sentiment fluctuated between 40% and 60%. Since 2005, sentiment has dropped precipitously, to around 7% currently, even while homebuying sentiment remains high.
Nearly two-thirds of those who expressed negative selling sentiment listed "difficulty of finding a buyer" as the reason. Engelhardt suggested that what they mean is the difficulty of finding a buyer at the price they want.
Mike Litzner, who owns Century 21 American Homes in Long Island, N.Y., says real-estate agents have to educate sellers on what price their home is really likely to fetch now. "If sellers really want to sell, they adjust their expectations to the changed realities," he told syndicated columnist Kenneth R. Harney.
If the sellers won't face reality, the agents sometimes decline the listing rather than waste time marketing a home that won't sell at the desired price.
Some agents are writing price-reduction clauses into contracts with sellers, which authorize automatic price reductions if no action occurs in the first few weeks.

Are sellers refusing to face reality? Or are they smart to keep their homes off the market now?
FIND YOUR DREAM HOME OR APARTMENT
msn real estate is social
WHAT'S YOUR HOME WORTH?
HOME IMPROVEMENT PROFESSIONALS
more on msn real estate