Single-family building hit record low in 2011
Builders take heart from the stronger showing toward the end of the year but note that 'normal' demand is still years away.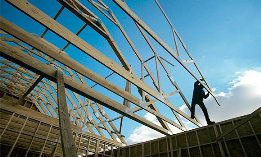 It's official: 2011 was the worst year on record for single-family homebuilding.
But with December being the third straight month to show an increase in the number of single-family homes to start construction, builders are feeling a bit optimistic. A bit.
While the number of single-family homes started in December rose 4.4% over November, the total number of homes started fell 4.1%, driven by a decline in the volatile multifamily numbers. Still, the December numbers for combined single-family and multifamily construction were 24.9% above the rate in December 2010, according to the Commerce Department.
Post continues below
"There's little reason for builders to ramp up residential construction in any strong way until we work off more of the existing supply of homes," Sam Bullard, a senior economist at Wells Fargo Securities, told Bloomberg. "There are still issues with foreclosures. We suspect prices are going to go down another 5% to 6%, but we do expect them to bottom this year and gradually pick up from there."
Construction began on 428,600 single-family homes last year, the smallest number since the 1940s, according to the "Eye on Housing" blog published by the National Association of Home Builders. That's fewer homes than the previous low of 445,000, set in 2009.
The NAHB expects construction to improve this year but "Eye on Housing" notes that the market has long way to go before returning to health:
Total housing starts' three-month moving average has increased for eight months and that trend is expected to continue into 2012 for an annual rate of increase around 17%. The absolute levels of housing construction remain below half of normal, and a true return to the underlying demographically driven demand for additional housing of about 1.7 million homes is still several years away.
FIND YOUR DREAM HOME OR APARTMENT
msn real estate is social
WHAT'S YOUR HOME WORTH?
HOME IMPROVEMENT PROFESSIONALS
more on msn real estate