Home sales rise, and cash is king
Realtors report more homes are being sold to investors and in all-cash deals as questions are raised about the group's statistics.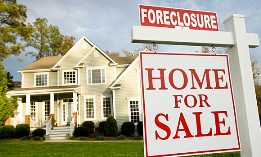 The number of used homes sold in the United States rose in January, for a third straight month, with fewer homes going to first-time buyers and more going to investors and cash buyers.
The national median home price was down 3.7% from January 2010, to $158,800, according to the National Association of Realtors. That's consistent with data released Tuesday by S&P/Case-Shiller, which found that prices had dropped 4.1% from December 2009 to December 2010, hitting record lows in 11 of 20 major markets.
The Realtors reported 5.36 million homes sold in January, up 2.7% from December, using seasonally adjusted figures. That compares with 5.09 million homes sold in January 2010. The figures include single-family homes, townhouses, condos and co-ops.
Post continues after video.
Among the interesting statistics:
Fewer homes, 29%, went to first-time buyers, down from 33% in December. That's down from 40% in January 2010, when first-time buyers were eligible for a federal tax credit.

More homes, 23%, went to investors, up from 20% in December and 17% in January 2010.

The percentage of distressed homes sold in January was 37%, compared with 36% in December and 38% in January 2010.

Nearly a third of all the sales, 32%, were cash transactions, up from 29% in December and 26% in January 2010.
The percentage of all-cash transactions was the highest since the Realtors started keeping records of cash transactions in October 2008, when the rate was 15%.
"Increases in all-cash transactions, the investor market share and distressed home sales all go hand-in-hand," NAR chief economist Lawrence Yun said in a news release. "With tight credit standards, it's not surprising to see so much activity where cash is king and investors are taking advantage of conditions to purchase undervalued homes."
In a reminder that all real estate is local, trends varied considerably in 20 major markets.
Sales were up significantly over January 2010 in Baltimore (27%), Miami-Fort Lauderdale (32.9%) and New Orleans (23.2%), all of which reported declines in the median price. The number of sales declined in Atlanta, Dallas and Washington, D.C., which all reported increases in the median price.
Of the 20 cities, those reporting the greatest increase in median price were Dallas, up 7.5%, Indianapolis, up 7%, and St. Louis, up 5.3%. The greatest price declines for the year were seen in Miami-Fort Lauderdale (18.3%), Minneapolis (10.8%) and Portland, Ore. (10.3%)
The Realtors reported that the total housing inventory available for sale fell 5.1%, to 3.38 million existing homes, which is a 7.6-month supply. Other statistics, from CoreLogic, indicate the supply of unsold homes could be greater.
The Realtors data, long considered a key housing market indicator, was called into question this week when The Wall Street Journal reported the number of homes sold could have been overstated, dating to 2007. That would mean that there are even more homes available for sale, signaling an even longer time until the housing market recovers. 
FIND YOUR DREAM HOME OR APARTMENT
msn real estate is social
WHAT'S YOUR HOME WORTH?
HOME IMPROVEMENT PROFESSIONALS
more on msn real estate