How much would that rent for? Zillow has a guess
Company rolls out 'zestimates' for 98 million properties nationwide, whether they're for rent or not.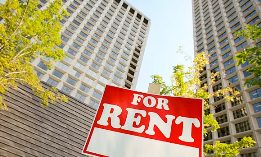 We may be drowning in information, but sometimes the information we need most is elusive.
One of those times is when we're looking for a home or apartment to rent. Often, realty agents handle only more expensive rentals. Craigslist has made it easier to find rentals, but sometimes you just have to drive around your favorite neighborhood and look for signs.
If you're in a new city, or renting after years of owning your own home, you may not know the going rate for rentals in your area. If you're a new landlord for the first time, you may not know how much to ask.
These are the people Zillow had it mind when it rolled out its new "rent zestimates" this week – estimates of how much individual properties should rent for. The zestimates are provided not only for properties that are for rent, but also for other properties in Zillow's database, a total of more than 98 million nationwide.
My two-bedroom house in South Florida, for example, would rent for $1,425 a month, Zillow estimates. My former two-bedroom house in Los Angeles would rent for $2,228 (I paid $1,050 in 1994.). My parents' three-bedroom house in the Midwest would rent for $872 a month. All those figures are in the ballpark.
To find the estimated rental price for homes that aren't actually for rent, you have to click on each property. But if you're looking at the list of available rentals, the "rent zestimate" is right under the amount of rent being asked.
Looking in my ZIP code, some of the estimates are slightly more than the amount of rent being asked, some are slightly less, and some differ quite a bit. For example, a two-bedroom, two-bath condo a block away is being offered for $2,000 a month, but Zillow estimates the market rent at $1,200. Since Zillow's algorithm can't see the water view, it may be a little low. But the landlord's price is probably a little high.
Here is Zillow's explanation of how it arrives at the rental estimates:
Computed using a proprietary algorithm that takes public record information, as well as information from hundreds of thousands of rental listings on Zillow, they are starting points in determining a home or apartment's fair rent price. Combine this with information on comparable homes and apartments for rent on Zillow, and a prospective renter will have many more data points to figure out how much they should pay for a rental. 
If you want more detail, Yeng Bun at Zillow Real Estate Research shares the methodology, as well as a chart on the accuracy rate for various metro areas.
Zillow notes that its rent estimates are provided only as a starting point for landlords and tenants to determine fair rents. A number of intangibles, such as views, what utilities are paid or what they cost and the condition of the house or apartment will also go into determining the actual rent. If you're a desirable tenant, you may be able to negotiate.
About Teresa Mears
Teresa Mears is a veteran journalist who has been interested in houses since her father took her to tax auctions to carry the cash at age 10. A former editor of The Miami Herald's Home & Design section, she lives in South Florida where, in addition to writing about real estate, she publishes Miami on the Cheap to help her neighbors adjust to the loss of 60% of their property value.
msn real estate is social
FIND YOUR DREAM HOME OR APARTMENT
WHAT'S YOUR HOME WORTH?
HOME IMPROVEMENT PROFESSIONALS
from our partners