Which party is more ready to party?
Realtor.com looked at whether homes with outdoor-entertaining features were more popular in states that leaned Democrat or Republican in the 2008 presidential election. The verdict: Blue states may love their sun a little more.
With the Republican National Convention just three weeks away, with the Democrats' convention shortly after, conversation will soon turn to this year's presidential election in a big way. But as we bask in the relatively politics-free weeks of early August, some are thinking about how to enjoy them outdoors.
Realtor.com asks: Which states have the most homes for sale with certain outdoor amenities, and which way did they vote in the 2008 presidential election?
Based on its data, blue states dominate the rankings. And for that, you can thank — or blame — California.
Post continues below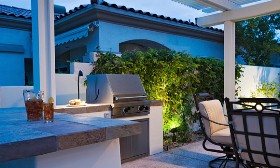 To be fair, blue states — or those that favored President Barack Obama over Sen. John McCain, R-Ariz., in 2008 — had a bit of an advantage going into this. In the 2008 election, 29 states and the District of Columbia swung Democrat, compared with 21 for the Republicans. They include most coastal states — including California and Florida — as well as those known for their affluence, or places in which more folks could afford to, say, drop $8,000 on a grill.
According to Realtor.com, the following outdoor-entertaining​ features were more popular in blue states:
Swimming pools, private and community

Spas and hot tubs, private and community

Outdoor kitchens

Built-in barbecues

Cabanas

Outdoor bars
Red states such as Texas and Arizona led the pack in two categories:
In all states, outdoor living areas continue to gain popularity. Homeowner interest in these features grew between 2010 and 2011, according to the latest data from the American Institute of Architects.
Keep in mind, however, that Realtor.com's survey focuses on homes that folks are trying to sell — not necessarily those that owners built and want to live in forever. But if you're looking to celebrate any upcoming political victory at your own swim-up bar, you may have slightly better luck in Georgia than in Nevada.
— Tony Stasiek is a producer/editor at MSN Real Estate.
About Teresa Mears
Teresa Mears is a veteran journalist who has been interested in houses since her father took her to tax auctions to carry the cash at age 10. A former editor of The Miami Herald's Home & Design section, she lives in South Florida where, in addition to writing about real estate, she publishes Miami on the Cheap to help her neighbors adjust to the loss of 60% of their property value.
msn real estate is social
FIND YOUR DREAM HOME OR APARTMENT
WHAT'S YOUR HOME WORTH?
HOME IMPROVEMENT PROFESSIONALS
from our partners
more on msn real estate