Negative equity raising home prices
In cities with a high percentage of underwater mortgages, the number of homes for sale is below the national average. That is helping to raise prices, particularly in lower price ranges.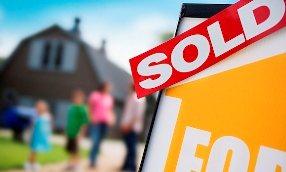 Here's an interesting twist to the real-estate crisis: Prices are rising in areas where lots of homeowners are underwater on their mortgages, because fewer homes are available for sale.
This could explain some of the statistics about turnaround towns in Florida and rising prices in Phoenix. Not only are investors attracted by low prices, homeowners who might like to sell are keeping their home off the market because they would have to pay the bank to sell it.
"The presence of negative equity not only drives foreclosures, reduces the availability of purchase down payments and impedes refinances, but also restricts the ability of owners to list their homes for sale as the demand side of the market improves," Sam Khater, a senior economist at CoreLogic, wrote in the June MarketPulse Report (PDF).
Post continues below
CoreLogic found that in cities where more than 50% of borrowers owed more than their home is worth, the market had only enough homes for sale to last 4.7 months at current sales rates. But in markets with fewer than 10% of borrowers underwater, there was 8.3 months of inventory.
Nationwide, there is about 6.5 months of inventory of homes for sale, the lowest in five years.
Inventory is low and prices are rising faster in the lower price ranges, the report said. Over the past two months, prices of lower-priced homes have risen 4.5% while more expensive homes have seen an increase of only 0.6%. 
CoreLogic predicts that situation will continue for a while, as the shrinking inventory helps to keep prices up.
If you're wondering about the rate of negative equity in your neighborhood, Zillow has just created a new interactive map that will help you find out.

It is scary how many of you have a lack of understanding of what has happened, what is happening and overall basic econ.
First, to the guy going on about how much new home builders earn. First that is 27% gross net, not net and that is an aiming point. The fact is, when they earn 27% gross net, that only is 27% on that one house, less the cost of operating the business. I am sure you were not the CEO of a large home builder thus you have no idea what the true net proffits were. My estimation would be closer to 14% if it were an extremely well run company.
Second, to those who claim there are so many more foreclosures in the pipeline. That depends on region. This has always been my biggest issue with National real estate news. What happens in Phoenix is far, far different than what happens in say NYC. You are correct, in some regions there are many, many more foreclosures in the "pipeline", mostly in what you call judicial foreclosure states. In non-recourse states like Arizona for example, foreclosrues take place much faster and thus it is less likely to have many sitting in your pipeline.
The fact is, the only way to save the housing market was to stop the bleeding. The bleeding in this case was foreclosures. Are banks holding foreclosed homes to raise prices, yes indeed they are. No different than most other companies hold back some inventory to prevent flooding the market. Apple could build enough I pads to satisfy the market before selling them but they do not to create buzz about not being able to get one, why should banks do anything different. Housing inventories being low will help stabilize markets and raise prices. Rising prices will cause home owners to stop participating in what is known as strategic foreclosure.
The fact with the housing market is simple. Housing prices are now much lower than what they should be. The mark for housing can be set back at 2003, which is far before the frenzy buying of 05, 06. The fact is, in many markets housing historically increases 5% per year, in some markets even more and in a few markets far less (some will remain in decline as the cities are becoming ghost towns). Thus if you take prices from 2003 and increase them by 9 years that is where home prices should be and they are not. Simply put we are do for another market correction in the other direction, hopefully it does not jump off the cliff like in 06.
So, what needs to happen? Banks need to continue to regulate the amount of inventory they put to market and ease homes back to market. This will allow home building to start back up (which has begun) and allow prices to increase. It needs to be done carefully as you cannot flood the market but you also do not want to create artificial inflation. I believe this will be acomplished by the powers that be, although it will take some time. Look to 2014 before we are 100% out of this.

Having worked for a new home builder who was as unscrupulos as could possibly be, the forthcoming information may be of value.  After land purchase, underground services, road grading and paving, materials cost, labor cost, sales cost, real estate commissions of outside and inside sales up to six percent, advertising and other smaller however important expenses the minumum profit had to be!!! Are you sitting down, at least 27 percent net. Homes that were built and the original buyer did not close were marked up an additional percentage because it was move in ready. Almost always had those move in readies on hand.  If you are in the market for a new home, have your mortgage in hand and low ball offers with the builder of at least 15 percent. They will come back with an OK or a couple thousand over your bid. Once built it is a tax liability as well as the building mortgage converts to a finished home mortgage.  Be prepared to walk away if your price is not met. They will call within three to four days to sell the property.

The entire U.S. banking system is a sham. I tried at 5 different banks to get a home loan with a 780 credit score, 25% down and 10 years on the same job and was denied every time. I decided it was time for me to take a stand and do something for myself instead of for the millionaires making money off of me through the banks. So two months ago I took out a series of "personal loans" for 10K each within days of eachother (two of them from banks who had recently denied my home loans) and was able to negotiate a 72K 3b/3b house down to 55K because I could pay cash on the spot. Now I have no mortgage and the payments on the three loans combined are less than I was paying for a 2b/1b upstairs apartment. These loans will be paid off long before my kids are ready to start college, I own my home outright, and the bank doesnt get a dime from me. Their greed just cost them thousands upon thousands of dollars in interest and fees.
They dont own us even though they like to think they do. I got angry, did something about it and came out way ahead. Dont buy into their "we make all of the rules".

I needed a place to live.  I found a nice place owned by a man who needed to sell.  Having saved a little each month for many years, I found a bank who trusted me enough to lend me the rest.  I am watching cartoons with my girls right now.  Then we are going to have lunch at the beach.  YEAH, WHAT A SHAM!
Are you sure you want to delete this comment?
About Teresa Mears
Teresa Mears is a veteran journalist who has been interested in houses since her father took her to tax auctions to carry the cash at age 10. A former editor of The Miami Herald's Home & Design section, she lives in South Florida where, in addition to writing about real estate, she publishes Miami on the Cheap to help her neighbors adjust to the loss of 60% of their property value.
msn real estate is social
FIND YOUR DREAM HOME OR APARTMENT
WHAT'S YOUR HOME WORTH?
HOME IMPROVEMENT PROFESSIONALS
from our partners