Houses get squarer; home offices vanish
Builders are adjusting to the new economy by constructing more rectangular homes. On the interior, look for two master suites and 'pocket offices.'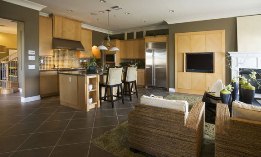 If you're looking for a new home this year, you can expect it to look a little different from the new homes of a few years ago.
Uneven roof lines have been replaced by a single roof elevation, and the bump-outs and lump-outs have given way to a more rectangular home design, which is cheaper to build.
Separate home offices and dens are gone. In their place are "pocket offices" in or near the great room or kitchen, which is seen as the hub of family activity, the National Association of Home Builders says.
Post continues below
More homes are being built with two master suites, with at least one on the ground floor, or attached auxiliary living units to create space for multigenerational living.
And if you move into a condominium, you may find a communal office space as well as a pool and clubroom, as amenities grow to compensate for smaller living spaces.
These are among the trends identified by the NAHB, which is celebrating New Homes Month in April. In the current economic climate, the challenge for builders is to accommodate changing tastes and shrinking budgets.
Already, builders in some areas have discovered that they can build "big box" McMansions for less than $100 per square foot.
A few other trends, according to the NAHB:
Washers and dryers in the master bedroom closet.

Two windows meeting at the corner of rooms (a common architectural detail in some homes of the 1940s and '50s).
What do you think? Are you ready to give up a separate den or home office for a "pocket office" near the kitchen or pantry? Would you accept a smaller condo unit in a complex that included more common areas?
FIND YOUR DREAM HOME OR APARTMENT
msn real estate is social
WHAT'S YOUR HOME WORTH?
HOME IMPROVEMENT PROFESSIONALS