Home prices: Not as bad as they look?
The Case-Shiller Home Price Index hit a post-crisis low in the first quarter, but other signs point to growth.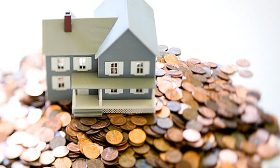 The trickling of home sales from the so-called "shadow inventory" of distressed properties onto the housing market continues to play games with national home-price data.
The S&P Case-Shiller Home Price Index, released today (PDF), registered a 2% drop in the first quarter of this year from the fourth quarter of 2011. Prices were down 1.9% from the same quarter a year earlier. They have hit their lowest point since the 2006 housing crisis, leading Forbes to dub the "double dip" as dipping further.
Meanwhile, Case-Shiller's 20-city index was "basically unchanged" from February to March; the 10-city index was down just 0.1%.
What can we glean from that? As Time's Alison Rogers notes, looking behind the numbers may yield some positives from today's report.
Post continues below
Rogers writes that the Case-Shiller index counts sales of distressed homes, which typically go for lower prices than traditional sales. In large cities such as Atlanta and Las Vegas, known for their ongoing foreclosure issues, these sale prices can weigh down the towns' average and median prices — even when sale prices for nonforeclosure homes are ticking up. Because Case-Shiller tracks only the 20 largest cities, this "foreclosure effect" is particularly pronounced in its reading.
What's up with the rest of the nation? The Federal Housing Finance Agency's price report, which measures home-value changes for all properties with loans that Freddie Mac and Fannie Mae back, showed a 1.8% monthly gain in March, Bloomberg reports.
That's the largest such gain in more than two decades. So wait -- who said "double dip"?
From Rogers:
Think of the differing housing numbers this way: If you want to track the price of suits and slacks, the FHFA measurement would be the equivalent of seeing what's selling at Dillard's, J.C. Penney's and Saks. The Case-Shiller measurement would be all those, while mixing in what's selling in the bargain basement at the Salvation Army thrift store.
Today's Case-Shiller report does include some discouraging news for a handful of areas, however. Atlanta, Chicago, Las Vegas, New York and Portland, Ore., logged their lowest monthly home prices since the housing bubble burst. All five were among the nine cities to touch new lows last month, too.
For Atlanta in particular, the news continues to be grim. Its year-on-year price decrease now stands at 17.7%, and prices there are below January 2000 levels.
Annual rates of change did increase, however, in Charlotte, N.C.; Dallas; Denver; Detroit; Miami; Minneapolis; and Phoenix. That may not be enough for a recovery yet, said David M. Blitzer, chairman of the Index Committee at S&P Indices.
"While there has been improvement in some regions, housing prices have not turned," Blitzer said in a release.
— Tony Stasiek is a producer/editor at MSN Real Estate.
About Teresa Mears
Teresa Mears is a veteran journalist who has been interested in houses since her father took her to tax auctions to carry the cash at age 10. A former editor of The Miami Herald's Home & Design section, she lives in South Florida where, in addition to writing about real estate, she publishes Miami on the Cheap to help her neighbors adjust to the loss of 60% of their property value.
msn real estate is social
FIND YOUR DREAM HOME OR APARTMENT
WHAT'S YOUR HOME WORTH?
HOME IMPROVEMENT PROFESSIONALS
from our partners