Survey: Outdoor living space is important
Trend toward smaller homes may be slowing, survey of architects suggests, with customers interested in outdoor rooms and aging in place.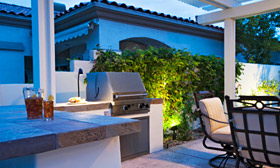 The trend toward smaller homes may be leveling off, and more consumers are considering home improvements, according to the latest American Institute of Architects Home Design Trends Survey.
One remodeling trend that shows an increase since the last survey is outdoor living space, as well as indoor-outdoor space. Sixty percent of respondents reported an increase in requests for outdoor living space, up from 56% in 2010.
Post continues below
"What we've been seeing over the years — with the economy and the housing market being what it is — people are not upgrading and moving into bigger, more expensive homes, they're refurbishing and adding outdoor living spaces," Scott Greeson, owner of Woodlands Outdoor Living in Concord, N.C., told The Charlotte Observer.
In addition to favoring open layouts, consumers are looking for more accessibility, with the hope of being able to grow old in their homes.
The size of homes increased in the first half of this decade, but began decreasing after 2005. However, a smaller number of architecture firms reported a decrease in home sizes. That doesn't mean that the smaller-home trend is over, but it may be slowing a bit.
"Overall home and lot sizes showing signs of increasing slightly indicates that the housing market is stabilizing after being in a downward spiral since 2007," AIA chief economist Kermit Baker said in a news release. "But consistent with the last several years, there remains a preference for open-space layout allowing for more flexibility, and less interest in formal spaces and rooms."
The survey also showed more requests for kitchen and bath makeovers, in addition to more requests for additions and remodeling in general. You can see the survey results here and read Baker's commentary here.
Of course, you don't need an architect, or even a lot of money, to create an outdoor room.
HGTV interviewed designers Joan Grabel and Katie Z. Leavy about creating an outdoor room on a budget. If you have only $100 to spend:
Do: Buy a bright-colored umbrella.
Don't: Add garden gnomes
Grabel said: "Do not buy things that have a short life span or that do not enhance the style that you are going for, or that are small and will not be noticed."
FIND YOUR DREAM HOME OR APARTMENT
msn real estate is social
WHAT'S YOUR HOME WORTH?
HOME IMPROVEMENT PROFESSIONALS
more on msn real estate