Number of improving markets drops 20%
The volatility of the improving-markets index points up the uncertainty in the housing sector. Most major cities still don't make the list.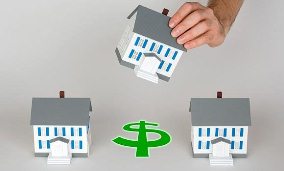 The number of housing markets listed as improving dropped this month, underscoring the fragility of any housing recovery that may be under way.
The number of cities on the National Association of Home Builders/First American Improving Markets Index dropped from 100 in May to just 80 in June.
"The shifting of some markets off the IMI in June underscores the fragile nature of the housing recovery as well as the fact that many locations that previously made the list had recorded only marginal house-price gains, which were easily wiped out by small downward changes," NAHB chief economist David Crowe said in a news release.
Post continues below
To be deemed an improving market, a metro area must show improvement in building permits, employment and home prices for at least six months.
The number of markets on the list had hovered around 100 for the past three months.
Most of the cities on the list are smaller metro areas, though Phoenix; Washington, D.C.; Orlando and Tampa, Fla.; Detroit; Kansas City, Mo.; and Pittsburgh remained on the list. They were joined this month by Dallas, San Antonio and Knoxville, Tenn., as well as 24 smaller cities.
Among the 48 cities falling off the list in June were Denver; Jacksonville, Fla.; Indianapolis; Portland, Ore.; and Nashville, Tenn.
"The volatility of this index mirrors the uncertain economic conditions in some of our nation's individual markets," said Kurt Pfotenhauer, vice chairman of First American Title Insurance Co., in a news release. "The fact remains, however, that real-estate fundamentals are still improving in many areas across the country."
So has the housing market hit bottom? Or does this list indicate that we still have a way to go?
The Wall Street Journal's "Developments" blog posed the "have we hit bottom" question to six experts last week, before this list was published. Among the responses:
Rick Sharga, executive vice president of Carrington Mortgage Holdings: "I think we're either at or very, very near the bottom, and that prices will stabilize on a national basis this year. … Prices will come back more rapidly in some markets than others — largely along the lines of how healthy local economies are — but nationally, we probably won't see significant, sustainable home-price appreciation until 2015."
Glenn Kelman, CEO of the real-estate brokerage Redfin: "We hit the bottom last year. I don't think that means it's going to be a V-shaped recovery. There will be ups and downs, and sales volume isn't going to recover in any meaningful way. You've got the investor demand and you've got some homebuyers who qualify, but you don't have the breadth and depth for a bull market for a real rally that is national in scope."
FIND YOUR DREAM HOME OR APARTMENT
msn real estate is social
WHAT'S YOUR HOME WORTH?
HOME IMPROVEMENT PROFESSIONALS