View of homeownership shifting
Americans still want to own homes, but they are thinking more about emotional ties and less about investment, a new survey shows.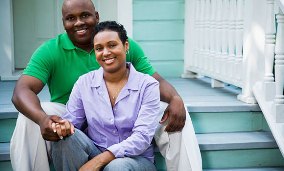 Americans still see owning a home as part of the American Dream, but most are placing less emphasis on the financial aspects.
Those are the findings of a Coldwell Banker survey on homeownership, which looked at attitudes in light of the recession and real-estate bust, which saw some homeowners lose more than half their home equity and others lose their homes entirely to foreclosure.
"After any major fallout like a financial downturn, it's natural to examine and sometimes alter the way we think about fundamental issues in our lives," Robi Ludwig, a psychotherapist who partnered with Coldwell Banker on the survey of 2,100 adults, said in a news release. "So it makes sense that this survey shows we are rethinking what passed for conventional wisdom during the 'boom years.'"
That includes how people see their homes.
"Instead of looking at homes through the eyes of an economist, we're realizing that a home doesn't solely equate to financial return or measure only to a mortgage amount," she said. "Instead, the home is the emotional center of our lives, and it remains a critical component of who we are."
Despite increasing talk about a shift toward a "rentership" society, the Coldwell Banker survey found that people overwhelmingly want to own homes. A total of 91% of the respondents, including 89% of renters, said owning a home was part of the American Dream. And 83% of renters said they want to own a home someday.
Among the other findings of the survey:
79% of adults believe the recession has caused society to rethink the concept of homeownership, and 72% believe Americans now have more respect for homeownership.

75% believe there has been too much emphasis on the financial value of a home versus the emotional value.

86% believe people are more closely evaluating how much home they can afford.

94% of homeowners are glad they own a home.

71% believe a home is a reflection of their identity.
In the end, Ludwig said, the commitment of owning a home creates a strong emotional tie.
"Homeownership is a commitment; it's about being rooted, which is one of our human instincts," she said. "I was encouraged to see that so many respondents recognize that commitment to a home, just like in a relationship, can often bring immense satisfaction."
Are you sure you want to delete this comment?
FIND YOUR DREAM HOME OR APARTMENT
msn real estate is social
WHAT'S YOUR HOME WORTH?
HOME IMPROVEMENT PROFESSIONALS
more on msn real estate