Forget DIY with these projects
Unless you really know what you're doing, some do-it-yourself tasks around the home are better left to the pros.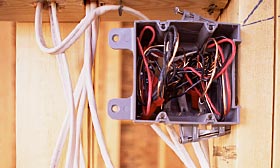 When times are tough, many of us like to think that every project is DIY just to avoid the added costs of paying somebody else to do work we think we could do ourselves.
But sometimes, this act of thriftiness can end up not only costing you more money, especially if you calculate the amount of time and stress you could spend on the project, but it also could also put your life at risk.
WalletPop has a list of eight activities that it suggests are better left to an expert, and we'll take a look at the three that are related to maintenance in and around the home:
Electrical work
We all know the dangers that come with working on your electrical wiring: sparks, electrocution, fires, etc. Which is why the article notes that many cities require you to get a permit before doing any electrical work, and some even require that a professional take on those tasks.
But some of the smaller projects, such as fixing a broken electrical outlet, can easily be done "by the homeowner equipped with a modest number of specialized tools and a modicum of sense," according to this MSN Real Estate article, which offers tips on what's realistic to take on plus the tools you'll need to stay safe.
However, when in doubt, call an expert. From WalletPop:
"You usually don't get a second chance with electricity," says Michael Johnston, executive director of standards and safety for the National Electrical Contractors Association. "It's not a job for a handyman."
Tree removal
Even if you have the proper tools to take down a tree, WalletPop points out thAT any tree with a diameter of more than 5 inches could kill you if it falls on you, with the average backyard hardwood tree weighing as much as 60 pounds per cubic foot, according to the Tree Care Industry Association's Peter Gerstenberger.
But if money is your big reason for wanting to take on tree removal on your own, you might want to call your insurance company first to ask if your policy covers any of the cost of tree removal. MSN Real Estate's "Hurricane-proof your home: 6 steps" says that if the tree you'd like to remove puts your or a neighbor's home at risk in a storm, your insurance could help pay some of the cost of the project.

Getting rid of bugs
Although some of the worst pests, including termites and bedbugs, are best left to a professional exterminator to get rid of, there are steps you can take to ward them off or to locate them before the problem worsens.
The MSN Real Estate article "Think you have terminates? Don't bug out" offers tips to help you identify whether you have a problem, the different methods professionals use to get rid of them, and how to keep them from coming back.
And with bedbugs, it might take much more than one visit to get rid of your problem. Michael F. Potter, an entomologist and bedbug expert at the University of Kentucky, told MSN Real Estate for the article "Beating back bedbugs":
"The national average we found in that recent survey was three visits" by the pest-control company, and it could take as many as six visits, Potter says. "The more clutter you have, the more visits it takes." 
The article also offers tips to keep bedbugs out of your home both before and after a potential infestation, and how to keep your eye out for the critters.
What are some DIY projects you've discovered are better left to the experts?
FIND YOUR DREAM HOME OR APARTMENT
msn real estate is social
WHAT'S YOUR HOME WORTH?
HOME IMPROVEMENT PROFESSIONALS
more on msn real estate