Listing of the Week: New Orleans 'Ashtray House'
An architect with a sense of whimsy festooned the outside of a 1960s home with 1,200 amber glass ashtrays. The seller is former New Orleans Mayor Ray Nagin.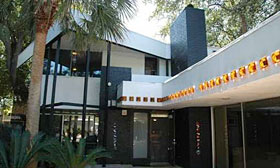 We picked our Listing of the Week because of its name: the "Ashtray House."
The house was built in the 1960s on New Orleans' Park Island for a family named Sunkel. It's called the Ashtray House because it is adorned with 1,200 amber glass ashtrays embedded in the plaster fascia on the outside. Ashtrays were also used in a fireplace facing and a dining room chandelier.
The current owner of the home is former New Orleans Mayor Ray Nagin, who has listed the 3,650-square-foot house for $729,000.
Post continues below 
The house has four bedrooms and five baths, a master suite in the treetops, a pool and a two-story great room with a wall of glass.
The home was designed by Albert Ledner, an architect who gravitated to Frank Lloyd Wright's organic style, adding his own touches of whimsy, such as the ashtrays. In addition to designing about 40 homes in New Orleans, Ledner, now in his mid-80s, designed several unusual buildings for the National Maritime Union in New York in the 1960s.
Earlier this year, Ledner shared some thoughts on modern architecture with Preservation magazine:
Modern design tends to be boxy, and the box itself is not very appealing. The Organic approach is much more interesting than a purely utilitarian structure. The forms give you real freedom to think outside the box. Like the wheel configuration — it allows you to achieve much greater spans with less material. You can really experiment with these forms.
The architect designed his own house in Metairie, La., a suburb of New Orleans, which he had to restore after Hurricane Katrina. You can see photos of other homes he designed here.
An unusual aesthetic touch, indeed, and one that belies the dated-looking interiors: wall-to-wall carpeting, a dark, dank kitchen, mirrored bedroom walls and strange built-ins. Still, with all those windows overlooking the verdant landscaping, enormous great room and stunning staircase, it's probably possibly to rehab this place without the architect's original intent, uh, going up in smoke.
About Teresa Mears
Teresa Mears is a veteran journalist who has been interested in houses since her father took her to tax auctions to carry the cash at age 10. A former editor of The Miami Herald's Home & Design section, she lives in South Florida where, in addition to writing about real estate, she publishes Miami on the Cheap to help her neighbors adjust to the loss of 60% of their property value.
msn real estate is social
FIND YOUR DREAM HOME OR APARTMENT
WHAT'S YOUR HOME WORTH?
HOME IMPROVEMENT PROFESSIONALS
from our partners