Home prices dip — is a new bottom in sight for sellers?
All 20 cities in the S&P/Case-Shiller Home Price Index logged housing-price decreases in October, with six hitting record lows. More could be in sight in 2011.
Selling your home in the winter can be risky — and Americans know it, with 85% of respondents in a recent Fannie Mae survey saying now might not be a good time to put your house on the market.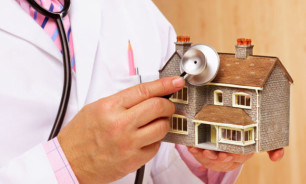 They may be onto something: Home prices in October decreased 1.3% from September and were down 0.8% compared with October 2009, according to the S&P/Case-Shiller Home Price Index, which reported price slides in all 20 large cities tracked. For the year, prices have slipped in 18 of the 20 cities.
The news gets worse for Atlanta; Charlotte, N.C.; Miami; Portland, Ore.; Seattle; and Tampa, Fla.: All reached a new home-price low since their markets peaked in 2006 and 2007. Atlanta showed the biggest decline, while Charlotte, Dallas, Denver, Portland and Tampa continued a four-month price downturn. (Bing: When did your housing market peak?)
In other words, if you didn't get a heavy dose of coal in your stocking last weekend, hang that boy back out there.
"The double dip is almost here … There is no good news in October's report. Home prices across the country continue to fall," said David Blitzer, chairman of the index committee, in a statement.
Blitzer re-donned his Grinch suit to note additional negative trends for the coming months. Existing-home sales decreased in November and October from 2009 levels. The Conference Board's Consumer Confidence Index, which measures shoppers' feelings about making large purchases, such as homes, fell in December. And new-home construction has been stagnant for quite some time, not necessarily "giving any sense of optimism," Blitzer says.
Post continues below video
So where are the bright spots? One comes with taking the information with grain of salt. Case-Shiller's primary composite indexes cover only 10 and 20 of the largest cities in the U.S. individually, though each casts a fairly wide net when defining city and metro-area boundaries. So the price trend in the Washington, D.C., suburbs, for example, may be different than in the capital's Georgetown neighborhood. By the way: Washington fared best among areas in the 20-city index; prices increased 3.7% there in October, compared with October 2009.
Also, according to the National Association of Realtors, the median home price for the entire U.S. actually increased to $174,600 in November from November 2009.
As Leah L. Culler noted in an earlier post, this environment still leaves some sellers in a precarious spot. On one hand, fewer homes are listed this time of year, with some long-unsold properties traditionally pulled from the market until spring. On the other hand, even reduced competition can't change buyers' minds if prices are tanking everywhere.
For help navigating the down market, peruse this article for tips on selling your home. And if all else fails, consider painting the thing pink -- er, "honeysuckle" -- which Pantone just named its 2011 color of the year.
Where do you see home prices going in your area in the next year? Let us know here or join the conversation on Facebook.
— Tony Stasiek is a producer/editor at MSN Real Estate. He's the former editor of two leading mortgage-industry magazines and has worked as a newspaper editor and reporter.
About Teresa Mears
Teresa Mears is a veteran journalist who has been interested in houses since her father took her to tax auctions to carry the cash at age 10. A former editor of The Miami Herald's Home & Design section, she lives in South Florida where, in addition to writing about real estate, she publishes Miami on the Cheap to help her neighbors adjust to the loss of 60% of their property value.
msn real estate is social
FIND YOUR DREAM HOME OR APARTMENT
WHAT'S YOUR HOME WORTH?
HOME IMPROVEMENT PROFESSIONALS
from our partners