Home sales plunge as prices hit 2002 levels
Nearly one-third of existing-home sales were in cash in February, and 39% of transactions were for distressed homes.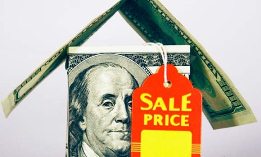 Home sales fell sharply in February, and prices declined to their lowest level in nine years.
That's yet another indication that the housing market is nowhere near a recovery. Tight credit and high inventory, along with uncertainty about the job market and the belief that prices will continue to fall, are all contributing to the slow market.
Data from the National Association of Realtors show that sales of existing homes, including condos and co-ops, fell 9.6% to a seasonally adjusted annual rate of 4.88 million in February. That's down from 5.4 million in January and is 2.8% below the February 2010 rate of 5.02 million.
Of those sales, 34% went to first-time buyers — up from 29% in January and down from 42% in February 2010, when they were eligible for a tax credit. A total of 19% of February sales went to investors, down from 23% in January and equal to the percentage in February 2010. The rest of the sales went to repeat buyers.
All-cash sales hit a record in February, accounting for nearly one-third of all sales, up from 23% in January and 27% in February 2010.
Distressed homes — foreclosures and short sales — accounted for 39% of transactions, up from 37% in January and 35% in February 2010.
Post continues below
"The decline in price corresponds to the record level of all-cash purchases where buyers — largely investors — are snapping up homes at bargain prices," says Lawrence Yun, chief economist for the Realtor group, in a news release. "We'd be seeing greater numbers of traditional home buyers if mortgage credit conditions return to normal."
The large number of distressed homes on the market, plus the lack of demand, continues to push prices down.
The median home price in February was $156,100, down from $158,800 in January and down 5.2% from February 2010. That was the lowest median price reported since 2002, according to the Associated Press. The median price of a new home is now 45% more than the median price of a used home, an indication of the deep discounts in the used-home market.
Of the top 20 metro areas, those seeing the greatest decline in prices from February 2010 were Miami-Fort Lauderdale, Fla. (18.6%); Atlanta (13%); and Minneapolis-St. Paul, Minn. (10.4%). Four cities showed price increases: St. Louis (8.5%); San Diego (5.2%); Dallas-Fort Worth, Texas; (5.1%) and Houston (4.1%).
The areas showing the greatest increase in sales were Miami-Fort Lauderdale (46.4%), Baltimore (17%) and Phoenix (8.4%). The greatest declines in sales were in Dallas-Fort Worth (14.5%), Indianapolis (12%) and Boston (10.9%).
Are you sure you want to delete this comment?
FIND YOUR DREAM HOME OR APARTMENT
msn real estate is social
WHAT'S YOUR HOME WORTH?
HOME IMPROVEMENT PROFESSIONALS
more on msn real estate