Affordable homes with zero electric bills
Arizona builder becomes the first to offer 'net-zero' production homes. Prices start at $140,000 in some areas, with solar systems a $10,000 add-on.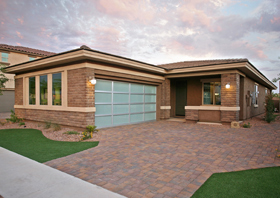 Homes with significant energy-saving features, such as solar panels, have in the past been reserved for the rich. Usually they're custom-built, at a higher than normal building cost.
In Arizona, Meritage Homes, the nation's ninth-largest homebuilder, has introduced the first production "net-zero" home, which means the house produces as much energy as it consumes, resulting in zero electricity bills for the homeowners.
"It's pretty cool to watch your meter spin backwards," Bruce Ploeser, a restaurant franchise owner, told the Phoenix Business Journal. He and his wife and four children moved into the first Meritage net-zero home.
The Ploesers' new 3,400-square foot home in Buckeye, Ariz., a suburb of Phoenix, has five bedrooms. They paid $326,000 for the house, which comes with a host of energy-saving improvements in addition to solar panels -- built at a cost of less than $100 per square foot.
Meritage's homes start at $140,000 in Tucson, Ariz., and $160,000 in Las Vegas, with a nine-panel solar array on the rooftop standard. An additional 24 panels, which will make the home net-zero, are a $10,000 to $15,000 upgrade.
The company plans to offer net-zero homes in other communities in Arizona, California, Colorado, Nevada and Texas.
Post continues below
An 89-home project in French Valley, Calif., about an hour north of San Diego, offers homes priced from $279,990 to $319,990 with significant energy-saving improvements. The net-zero option costs an additional $10,000 to $12,000. Those homes are close to the median price for their ZIP code, $245,000, the North County Times reported.
"It's not meant for people buying their last house, or most expensive house. It's for people buying their first home," C.R. Herro, vice president of environmental affairs for Meritage, told the newspaper.
While Meritage is the first major homebuilder to offer net-zero production homes, other homebuilders are also offering energy-saving features to distinguish themselves from the large number of competing foreclosures and other used homes offered for lower prices.
Brittany at CalFinder, which covers solar, lists several other builders and communities offering energy-efficient features on new homes. A number of builders, including Meritage, have started providing energy-efficiency ratings and estimates of utility bills for new homes.
"The market is terrible," Herro told the North County Times. "You've got two choices: You can be a commodity and build as cheap as you can and compete against bank-owned, or you can do something that's worth more and has more value to the buyer than what's in the market. The second's a lot more fun."
About Teresa Mears
Teresa Mears is a veteran journalist who has been interested in houses since her father took her to tax auctions to carry the cash at age 10. A former editor of The Miami Herald's Home & Design section, she lives in South Florida where, in addition to writing about real estate, she publishes Miami on the Cheap to help her neighbors adjust to the loss of 60% of their property value.
msn real estate is social
FIND YOUR DREAM HOME OR APARTMENT
WHAT'S YOUR HOME WORTH?
HOME IMPROVEMENT PROFESSIONALS
from our partners