Mortgage rates hit record low as mixed home-sale data emerge
Rate on 30-year fixed mortgage hits 3.75% as April's pending-home-sales index shows annual gain — but worst monthly drop in a year.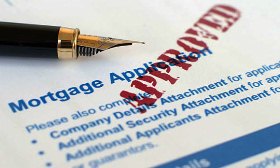 Another month, another set of inconclusive housing data.
Let's start with the latest: Freddie Mac announced today that the average interest rate on a 30-year fixed loan fell to 3.75% for the week from 3.78% the week prior. This marks the sixth-straight week in which that rate has touched a record low. It last ticked up for the week ending April 24.
Meanwhile, the average rate on a 15-year fixed-rate loan hit 2.97% — the first time it has been below 3% since Freddie Mac started keeping track in 1991, according to MarketWatch.
Post continues below
Regionally, the average 30-year rate was highest in the Southwest, at 3.79%, and lowest in the West, at 3.7%. The same was true for 15-year rates, with the Southwest coming in at 3.04% and the West at 2.94%.
Of course, the question continues to be: Can anyone score a loan or refinance at these minuscule rates?
Small banks continue to be an option for borrowers and potential borrowers turned down by larger lenders. The Mortgage Bankers Association also just increased its mortgage-origination​ estimate for the year by more than $200 billion, to $128 trillion. The increased estimate is because of more refinances, and the association now expects refis to account for $870 billion of this year's total, about the same as in 2011.
As for homeowners, they may still be waiting things out. The MBA reported that mortgage applications were down 1.3% last week, partially because of the Memorial Day holiday, according to the Orange County Register.
The National Association of Realtors announced yesterday that pending home sales, or homes under contract that have not closed, were down 5.5% in April from March — the biggest drop in a year. This sale index is considered a barometer for sale activity in coming months, and the drop came after three consecutive months of gains.
The Pending Home Sales Index did register a 14.4% gain from April 2011, however.
— Tony Stasiek is a producer/editor at MSN Real Estate.
FIND YOUR DREAM HOME OR APARTMENT
msn real estate is social
WHAT'S YOUR HOME WORTH?
HOME IMPROVEMENT PROFESSIONALS
more on msn real estate