More underwater homeowners may be able to refinance
Federal officials are proposing the expansion of a program that allows people who owe up to 125% of their home's value to refinance at today's lower rates. Would it make a difference?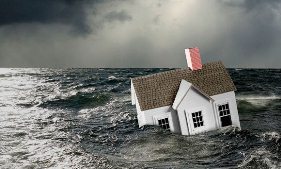 President Barack Obama's speech last week barely mentioned the housing market. But he did allude to a proposal that has been floating around for a few weeks: allowing more people who are underwater on their mortgages to refinance into government-backed loans.
According to figures released today by CoreLogic, 22.5% of homeowners with mortgages owed more than their home was worth at the end of the second quarter, only slightly fewer than the 22.7% at the end of the first quarter. If you add in those with less than 5% of equity, the reality is that is that 27.5% of homeowners with mortgages have little or no equity.
The president's Home Affordable Refinance Program (HARP) allows homeowners who owe up to 125% of their home's value to refinance. But that program has helped fewer people than were expected when it was announced in March 2009. A total of 838,000 homeowners have received refinancing through that program through June, The New York Times reported, far fewer than the 5 million predicted
One of the hurdles is that borrowers still have to have enough income to qualify, and many families make less than they did when they took out their mortgage. Plus, the savings have to be more than the cost of refinancing. (You can see the states with the highest and lowest closing costs here.)
In hard-hit areas, many underwater borrowers are too far underwater to participate.
The president did not provide any specifics in his speech of how the program might be expanded or which "responsible homeowners," as he put it, would be eligible.
Post continues below
One proposal under consideration is to allow homeowners who are more than 25% underwater to participate.
CoreLogic reported that almost 75% of underwater homeowners are paying more than 5.1% interest on their loans, and more than 40% of those who are more than 25% underwater are paying more than 6%. The average rate for a 30-year fixed-rate mortgage last week was at a record low 4.12%.
The Congressional Budget Office has calculated that Fannie Mae and Freddie Mac could refinance an additional 2.9 million loans without any significant increase in liability to taxpayers, the NYT reported. That would help avert 111,000 foreclosures.
The administration walks a delicate tightrope in coming up with a program that aids enough homeowners to make a difference but doesn't anger taxpayers who don't get the help. It also has to deal with the impact of any losses to the investors in the loans.
While changing the rules of the program could benefit additional homeowners, it is unlikely to have much impact on the economy or the housing market as a whole. The CBO analysts wrote:
With respect to the housing market, the overall impact of the program is also small; the 111,000 homeowners saved from foreclosure by virtue of lower monthly mortgage payments will have a minor impact on the path of future home prices. Because this program is directed toward current homeowners, it would do little to alleviate the tighter underwriting standards and increased credit pricing for purchase loans. In addition, it would not create much demand for homes, because all of its participants would already have at least one property.
What do you think? Should the government seek to help more families refinance and, if so, under circumstances?
FIND YOUR DREAM HOME OR APARTMENT
msn real estate is social
WHAT'S YOUR HOME WORTH?
HOME IMPROVEMENT PROFESSIONALS
more on msn real estate