Ohio wants to demolish 100,000 homes
Cities will use part of the foreclosure settlement to bulldoze abandoned houses, which are dragging down property values. Some states want to use funds to fill budget gaps.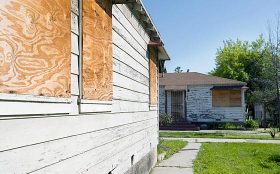 In Mansfield, Ohio, Herman Davis is mowing eight lawns. On his block in his town 80 miles southwest of Cleveland, 13 homes lie empty and abandoned. Citywide, about 15% of homes are vacant.
States have various plans for the $2.7 billion they expect to receive from the $25 billion foreclosure settlement between the federal and state governments and five big banks.
In Ohio, about $75 million of the state's $335 million share of the settlement will go toward demolishing homes.
Post continues below
Ohio Attorney General Mike DeWine estimates that the state has 100,000 homes that need to be torn down. But cash-strapped city governments don't have the money to pay for the demolition.
Cleveland has spent $42 million on demolition since 2006, but the city has many more abandoned, foreclosed buildings that should be torn down. "Our funding for demolition is in short supply," Chris Warren, chief of regional development for Cleveland's mayor, told The Plain Dealer. "The need is many, many times beyond our capacity."
Former Cuyahoga County Treasurer Jim Rokakis says that 30,000 condemned buildings in northeastern Ohio should be bulldozed, and that the blight is dragging down property values for everyone. Home values in Cleveland dropped below 2000 levels last year.
"After 10 years of foreclosure crisis, we have an absolutely stunning drop in property values,"  Rokakis told WCPO-TV. "This is not just the problem of the inner city, it's now become the problem of every homeowner in Cuyahoga County."
Cleveland sued 21 investment banks in 2008, blaming their irresponsible practices for causing blight in Ohio communities. That suit is pending.
In the meantime, one in 10 duplexes and single-homes in Cleveland is vacant, a representative of a community development agency told The Huffington Post.
While the money used to bulldoze homes won't go directly to homeowners facing foreclosure, Ohio officials argue that the demolition will help improve the property values for all residents.
In all, states will get $2.7 billion of the settlement money to help their residents deal with the foreclosure crisis. While many states are moving to use the money for housing programs, several are eying the funds as way to fill budget gaps.
Missouri is looking at its $41 million as a way to keep from raising college and university tuition, as well as make up for other state funding shortfalls. Vermont, Wisconsin, Maryland and Pennsylvania are also looking at nonhousing uses for the funds.


I totally agree with what cmrinseattle has said. If the government would get real and draw real salaries like everyone else has to live on things would be alot better in this country. The high and mighty need to be knocked off their high horses and brought back to the reality of this world. I just bet they sit around laughing their asses off when more people get poorer and the rich just keep getting richer. I have sent e-mails to several daring them to give up their fancy life styles and live like the rest of us for 6 months to a year. Darn sure no answers but I will keep going about with my e-mails and my dares just to see if i can get a response which I know I won't. If we the people would stand up for ourselves more someone would have to take notice!!!!!!

I don't understand why no money is being spent on building shelters for homeless people.  The housing crisis has caused so many more people to become homeless, and they need somewhere to live.  I have often thought that if cities built barracks-type buildings with single beds, showers, and small storage lockers, it could keep people from dying out in the elements and allow them dignity and decent grooming to continue looking for work.  I am not talking about tent cities where people could drink and do drugs, but I am talking about real shelters where entry is restricted to people who behave themselves and stay sober and cooperative.   Single men and single women need  need beds and bathrooms.  States have taken money from tobacco companies and not spent a penny of it to help people quit smoking.  Now they are taking money from the foreclosure settlement which they plan on using to cover their budget shortfalls.  This just doesn't seem right to me.  How do you feel?

Are you sure you want to delete this comment?
FIND YOUR DREAM HOME OR APARTMENT
msn real estate is social
WHAT'S YOUR HOME WORTH?
HOME IMPROVEMENT PROFESSIONALS