Listing of the Week: From seismic lab to 'The Italian Job'
The California villa built for a Walgreen's co-founder later was used by the scientist who developed the Richter Scale. The Pasadena home also was in a film.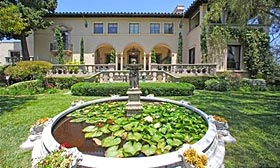 It's rare that we find a house that has featured in both seismic research and a caper film. In fact, we may never find one again.
This  11,299-square-foot Mediterranean-style villa on 2.6 acres in Pasadena, Calif., has a storied history. Asking price is $8.885 million.
The home was built in 1931 for one of the co-founders of Walgreen's, Arthur Thorsen, whose family owned it until 1957. Thorsen's granddaughters played in the 150-foot-long tunnel that went from the house to the tennis court.
Post continues below
"My sister and I loved to play in the tunnel that led to the lower garden," Diane Randolph told the Los Angeles Times in 2001. "There was a rosewood paneled elevator that served all three stories and descended to the back garden and that incredible tunnel. We thought all kids had elevators in their houses."
Thorsen's wife, Lyle, grew roses for the Rose Parade, her granddaughter said.
The tunnel and the elevator became more important after the home was sold to the California Institute of Technology. Seismologist Charles Richter, known for the earthquake-measuring​ Richter Scale, installed seismometers in the tunnel and used the elevator shaft to house a pendulum that measured vertical land movement during a quake.
After Caltech sold the house in 1975, the new owners spent $650,000 restoring the home, the Times reported, before selling it in 1982 for $1.416 million.
The house was designed by architect Garrett Van Pelt, who designed a number of houses in that area in the 1920s and 1930s. It has five bedroom suites plus a separate guest wing with two additional bedrooms. The landscaped grounds include a pool, basketball court and a large outdoor courtyard/room.
The house served as the home of Steve, the villain played by Ed Norton, in the 2003 version of "The Italian Job." In the film, Stella (played by Charlize Theron) poses as a cable company employee to get in the house.
About Teresa Mears
Teresa Mears is a veteran journalist who has been interested in houses since her father took her to tax auctions to carry the cash at age 10. A former editor of The Miami Herald's Home & Design section, she lives in South Florida where, in addition to writing about real estate, she publishes Miami on the Cheap to help her neighbors adjust to the loss of 60% of their property value.
msn real estate is social
FIND YOUR DREAM HOME OR APARTMENT
WHAT'S YOUR HOME WORTH?
HOME IMPROVEMENT PROFESSIONALS
from our partners