Want to run a town? You can buy one
Purchase a town with rental income in Montana for $1.4 million. Or, perhaps you'd prefer an overgrown, abandoned French village for $400,000 or less.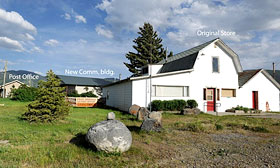 Perhaps being mayor of your local sub shop on Foursquare isn't enough. You own a house, but you want more.
Maybe you should buy a town. We found two towns for sale, one in France and one in Montana.
You can pick up the village of Pray, Mont., for $1.4 million, and that may be negotiable. If you'd like something more exotic, we suggest Courbefy, France, which was offered for $400,000 and got no takers. Now it's up for auction.
Post continues below
"There's status in being able to own a town," Barbara Walker, a photographer and the unofficial mayor of Pray, told The Daily. Her late husband's family has owned the town since 1953. She's selling because her husband and father-in-law died in 2006 and she doesn't want to run the town alone.
The rural French village is being offered for sale by mortgage holder Credit Agricole, which ended up with the town after foreclosing on its previous owners.
Pray, Mont., is about 30 miles from Yellowstone National Park in a region known as Paradise Valley. The town includes five acres of land, a four-unit trailer park, a shuttered general store, a commercial building built in 2008 that includes the apartment where Walker lives, and a post office, which is still operating. The owner gets $200 a month in rent from each trailer plus an unspecified amount from the post office land lease.
The town was founded in 1907 in another location and moved in 1938. Its name doesn't reflect any religious ties; it was named for Rep. Charles N. Pray, who was in charge of choosing the site for the post office. You can read more about the history of the town and the Walker family's role at The Billings Gazette.
The French village of Courbefy is about 280 miles southwest of Paris. Like many hamlets in rural France, it declined decades ago and everyone had moved out by the 1970s. Since then, it has been variously a summer camp, a conference facility and, in its last incarnation, a luxury hotel and restaurant.
The latest owners abandoned the place in 2008 or 2009, and it is now overgrown, occasionally host to squatters or rave parties.The exact size of the property isn't mentioned in any of the media reports, but it is described as "several" acres, with more than a dozen buildings, a pool and a tennis court.
A 12th-century chapel where Mass is held once a year is not included in the sale.
The property is scheduled to be sold at auction May 21. Who has expressed interest? According to The Associated Press:
Among those who are considering the property: a band of former college friends who always promised to live in a commune together, a group of retirees looking for a place to settle down, people interested in setting up a center for the handicapped, others scouting locations for a film set and studio.
About Teresa Mears
Teresa Mears is a veteran journalist who has been interested in houses since her father took her to tax auctions to carry the cash at age 10. A former editor of The Miami Herald's Home & Design section, she lives in South Florida where, in addition to writing about real estate, she publishes Miami on the Cheap to help her neighbors adjust to the loss of 60% of their property value.
msn real estate is social
FIND YOUR DREAM HOME OR APARTMENT
WHAT'S YOUR HOME WORTH?
HOME IMPROVEMENT PROFESSIONALS
from our partners