Move to end property taxes fails — for now
North Dakota voters overwhelmingly rejected a constitutional amendment that would end property taxes. But the issue is also percolating in several other states.
North Dakota decided this week not to become the first state to eliminate property taxes.
But the issue is unlikely to die. The backers of the state measure have vowed to bring it up again, and talk of eliminating property tax is stirring in several other states, too.
"No tax should have the power to leave you homeless," Jim Cox, a state representative who has filed a bill to eliminate the school property tax in Pennsylvania, told The New York Times.
Post continues below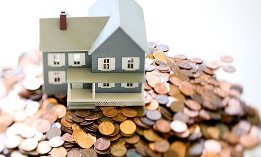 Ending property taxes has also been discussed in Texas and North Carolina.
Advocates of eliminating property taxes argue that the tax makes homeowners perpetual renters and that their homeownership is dependent on the actions of local governments. People who can't pay those taxes lose their homes. You can see the property tax rates in various states here.
The flip side, of course, is that if cities and counties no longer have property-tax revenues to run schools, libraries, police departments and other municipal services, they are going to have to find the money somewhere. The real-estate bust has left many municipalities struggling to make ends meet as tax collections have declined with property values.
"I would like to be able to know that my home, no matter what happens to my income or my life, is not going to be taken away from me because I can't pay a tax," Susan Beehler, who advocated the end to the property tax in North Dakota, told The Times.
But, as Alison Rogers of Time's Moneyland pointed out, rising property taxes aren't the only reason a homeowner could lose a home. She writes: "This argument, of course, neglects to acknowledge that a citizen could just as easily be forced to sell his or her home to pay escalating income or sales tax bills."
What do you think? Is eliminating property taxes a good idea?

About Teresa Mears
Teresa Mears is a veteran journalist who has been interested in houses since her father took her to tax auctions to carry the cash at age 10. A former editor of The Miami Herald's Home & Design section, she lives in South Florida where, in addition to writing about real estate, she publishes Miami on the Cheap to help her neighbors adjust to the loss of 60% of their property value.
msn real estate is social
FIND YOUR DREAM HOME OR APARTMENT
WHAT'S YOUR HOME WORTH?
HOME IMPROVEMENT PROFESSIONALS
from our partners