First-time homebuyers shut out in some cities
Falling prices had made homeownership more affordable, but only in some areas. In some major cities, working couples still can't afford to buy.
One of the silver linings to the sharp decline in home prices in the past five years is that first-time homebuyers who had been shut out of the market were able to afford homes again. Unless they lived in expensive areas such as New York, Boston, Hawaii, San Francisco and other places where median home prices still are far above the ability of working couples to afford.
Teachers Steve and Logan Kinney, who lived in the New York City borough of Brooklyn, have excellent credit and would like to buy a house. But their budget of $250,000 puts most of the New York City area out of reach.
Post continues below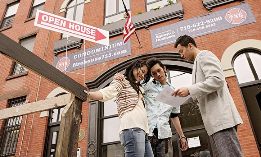 "Unless you are a lawyer, owning a home is out of the question," Steve Kinney told The New York Times. He notes that the couple would have to save a full year's salary to come up with a 20% down payment. To help them save, they have moved to Rockaway Beach, meaning that Logan Kinney spends three hours a day commuting.
Citing statistics from Fiserv Case-Shiller, The Times notes that prices nationwide have fallen 32% from their peak. The national median home price is $166,000, a level not seen since the mid-1990s and down substantially since the peak, when the median price was $226,000.
But if you look at a number of larger cities, the median home price far exceeds the ability of a couple with the median household income to buy. The Times writes:
In fact, prices in several metropolitan areas — including New York, Los Angeles and Boston — will end up being higher than their pre-bubble levels, at least relative to local income, said David Stiff, an economist at Fiserv Case-Shiller, which tracks the real-estate market. There are a few reasons, but one of the main drivers is the work force: these areas develop pools of specialized, highly compensated employees.
In Washington, D.C., homes are relatively affordable in the outer suburbs in Maryland, but would-be homebuyers are having a hard time finding homes they can afford closer to central D.C.
"It's very difficult to get a house in a desirable neighborhood for less than $400,000," Andrew Riguzzi, a managing partner at D.C. Real Estate, told The Washington Post. "If they're out there, they probably haven't been cared for and need several thousand to bring them up to conditions."
First-time homebuyers David Albersheim and Andrea Cohen have been looking for months for a home near a D.C. Metro station for less than $400,000.
"It's frustrating because I feel like I'm wasting time looking for houses every Sunday," Cohen told The Post. "I do have faith that we'll eventually find the right one, though. I'm trying to stay optimistic."
FIND YOUR DREAM HOME OR APARTMENT
msn real estate is social
WHAT'S YOUR HOME WORTH?
HOME IMPROVEMENT PROFESSIONALS
more on msn real estate